Discover more from Political Currents by Ross Barkan
This is Ross Barkan's newsletter - original essays on politics, society, and culture
Over 8,000 subscribers
Andrew Cuomo Failed to Hold the NYPD Accountable
50-a could have been repealed years ago if Cuomo cared enough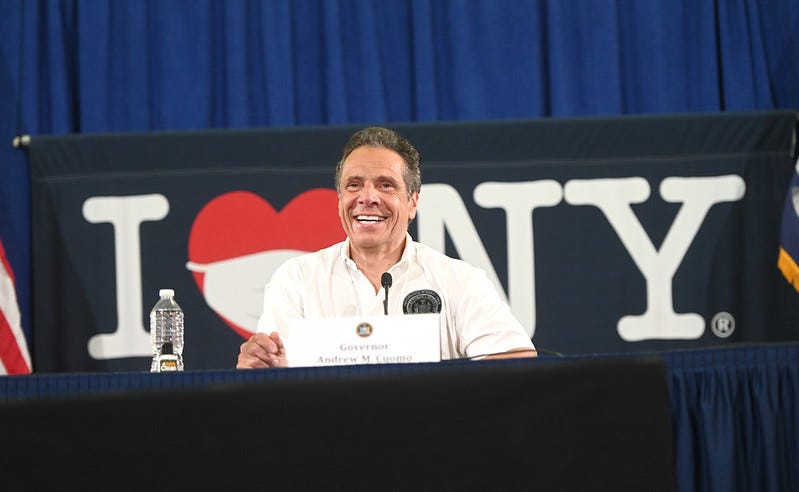 When the white Minneapolis police officer, Derek Chauvin, was fired after killing George Floyd, an unarmed black man, there were a flurry of news reports about Chauvin's deeply problematic history. Chauvin received at least 17 complaints in his two decades in the department, according to police records that were available for review. Chavin's past was quickly on display, allowing for journalists and advocates to understand the full scope of a troubling career that led to Floyd's tragic death.
Had Chauvin been an officer in New York, his history would have been shrouded in darkness.
For decades, New York State has had one of the strictest laws in the nation determining what the public can learn about dangerous police officers. The law, known as 50-a, has been on the books since 1976 and shields the disciplinary records of police officers, firefighters, and correction officers from public review, unless the individual officer signs off on their release. For armed police, who will inevitability encounter situations that lead to violence or death, 50-a has been a lifeline, allowing officers with checkered pasts to escape scrutiny. Mayor Bill de Blasio's NYPD has used 50-a as a pretext to repeatedly block requests for disciplinary records of police officers, including Daniel Pantaleo, the cop who placed Eric Garner in a fatal chokehold.
Governor Andrew Cuomo has used 50-a to shield his state police from scrutiny, too. The New York State Troopers do not release personnel or disciplinary records upon request from the public. The State Police didn't even start a body camera pilot program until this February, nearly three years after the NYPD did the same.
Since 50-a is a state law, it can only be repealed by the state legislature and Cuomo. For years, Democrats in the Assembly have carried a bill to do just that. Cuomo, who boasts of his criminal justice reform bona fides, has failed to apply can kind of political pressure to make it happen. Now in his 10th year as governor, Cuomo has said he would sign a "reform" of 50-a if it makes it through the Democrat-controlled legislature, though he has stopped short of the full repeal that most progressive lawmakers and advocates want.
This time, Cuomo may have to sign whatever the legislature sends him. It appears likely Senate and Assembly Democrats will agree on a repeal of 50-a as soon as next week.
It's important, always, to ask why it's taken until 2020 for any kind of serious momentum to build around taking 50-a off the books. Democrats took full control of the legislature in 2019, the first time in a decade they had done so. It's fair to ask why Senate and Assembly Democrats didn't include a repeal of 50-a in their raft of reform bills passed last year, which encompassed the reduction of cash bail and overhaul of outdated discovery laws.
But Republicans were in the State Senate majority from 2011 until 2019. These Republicans, to a man and woman, were law-and-order legislators closely aligned with the city and state police unions. Maintaining 50-a, for obvious reasons, has been a top priority for police unions over the last decade. Republicans representing suburban and upstate districts with fewer black and brown residents—and more whites who have far fewer negative encounters with police—had little political incentive to support a change to the 50-a law.
At no point in this era—spanning his first two terms in power—did Cuomo place a repeal of 50-a at the top of his legislative agenda or advocate for a change to the law in any meaningful manner.
Ultimately, the Republican Party's grip on the State Senate was almost entirely Cuomo's fault, thanks to his role in allowing the GOP to gerrymander their districts and later power-share with the Independent Democratic Conference. It's no accident that almost all major criminal justice reforms passed in the 2010s came in 2019, when Senate Democrats were in the majority. Until 2019, Cuomo had little interest in tackling any issues related to criminal justice, with the exception of low hanging fruit like raising the age of criminal responsibility, which merely brought New York into compliance with 48 other states.
Now, Cuomo can pose as a reformer again. Given the national unrest, he will not have the leverage to veto a repeal of 50-a, but if law enforcement unions are aggressive enough, they can prod Cuomo to meddle in the negotiations. Watch Cuomo over the next week. In Albany, he almost always gets his way.