Discover more from Political Currents by Ross Barkan
This is Ross Barkan's newsletter - original essays on politics, society, and culture
Over 8,000 subscribers
Andrew Cuomo Has Released Fewer Prisoners Than William Barr
As COVID-19 ravaged New York State, Cuomo refused to release vulnerable inmates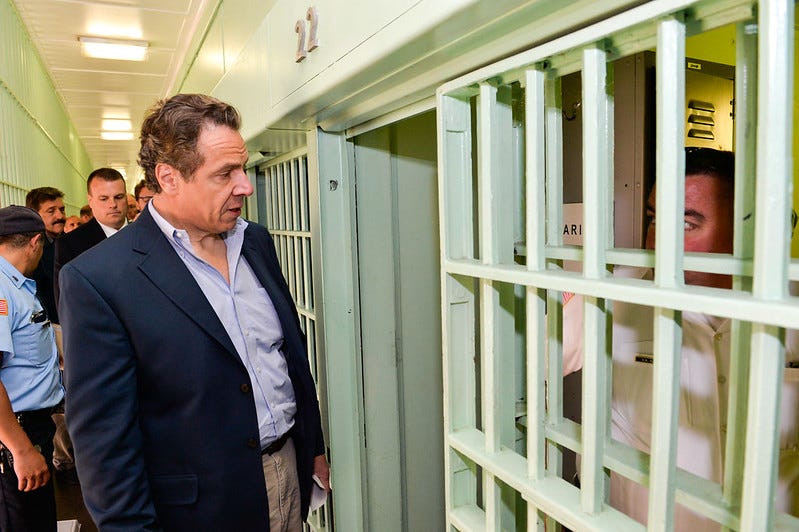 Governor Andrew Cuomo on Wednesday got his first bit of rough polling news since the outbreak of COVID-19. His job approval and favorability ratings, skyrocketing over the last few months, declined significantly since April, according to a Siena College poll.
Cuomo has a 66-30 percent favorability rating, down from a record high 77-21 percent last month. His job performance rating is 63-36 percent, down from a record 71-28 percent. And voters approve his overall handling of the pandemic 76-21 percent, down from 84-15 percent in April.
That's a lot of numbers! One takeaway is that Cuomo is still quite popular in New York, at least for now. Most executives would love to hover beyond 60 percent. Executives across the country, with the exception of Donald Trump, have seen their ratings rise in response to the pandemic.
The second takeaway is that Cuomo is now on a clear downward trajectory, after rising to heights rarely seen for any politician. It will only, most likely, get worse from here. After enjoying fawning press coverage in March and April, Cuomo is becoming ordinary again. New York's staggering death toll can't be ignored any longer. It's probable that almost 30,000 people across the state have died from COVID-19, a number on par with the death tolls in nations like Italy and Spain. While prestige pundits will never apologize for anointing Cuomo America's governor and feeding a narrative of triumph where none existed, the absence of consistent praise on cable TV, coupled with the emerging nursing home scandal, may dent Cuomo's popularity further.
One area that has garnered relatively little media attention has been Cuomo's handling of state prisons. Since people, generally, have less sympathy for the incarcerated, this isn't going to be an issue of optics or popularity for Cuomo. Rather, more damningly, it will become one of morality. Despite the fact that state prisons remain vulnerable to coronavirus outbreaks, Cuomo has outright refused to grant clemency to a vast majority of elderly and at-risk inmates.
Prisons, for obvious reasons, are conducive to coronavirus infections, sparing neither inmates nor corrections officers. Both coexist in crowded conditions, where it can be difficult to keep clean, wash hands, and practice good hygiene. Inmates access substandard healthcare and can have preexisting health conditions that make COVID-19 particularly deadly.
"In my nearly 35 years of incarceration, I have never seen anything like the fear, uncertainty, and sense of doom caused by the introduction of Covid-19 into the prison environment," a state prisoner named Stanley Bellamy wrote in the Guardian. "Not even the HIV/Aids and tuberculosis crises of the 1980s and 1990s caused this much hysteria and level of dread."
It's important to note the difference, first, between jails and state prisons. Individual counties and cities have dominion over jails. Rikers Island, for example, is a New York City jail complex and falls under the purview of the New York City Department of Correction, not the New York State Department of Corrections and Community Supervision, which Cuomo controls. There are about 43,000 inmates in state prisons currently. At least 9,500 are over the age of 50.
To date, 493 inmates have tested positive for COVID-19 in state prisons and 16 have died. While the numbers are relatively small, only 1,053 inmates have been tested for coronavirus at all (as of May 26), representing less than 3 percent of the total prison population. With such a limited amount of testing, it's possible there are many infections going undetected. If infections aren't sufficiently tracked, it could be harder for the state to stop the spread of the virus if it appears at a certain facility.
Cuomo's answer to heading off a possible crisis was to announce the release, in March, of up to 1,100 inmates who were held on technical parole violations. DOCCS, however, has only released 357 people as of this week. This group is made up of people who were within 90 days of their original release dates, were pregnant or medically vulnerable in some way, and were convicted of nonviolent crimes.
It's notable that Donald Trump's Attorney General, William Barr, who is a longtime advocate of mass incarceration, has moved a higher percentage of inmates to home confinement than Cuomo, despite the fact that Barr has been roundly criticized for dragging his feet during the coronavirus crisis. As of May 21, about 3,050 federal inmates have been moved to home confinement, which represents around 1.8 percent of the people under the Bureau of Prisons' supervision, according to ProPublica. While this number may seem paltry—don't worry, it is—Cuomo's percentage is worse. So far, less than 1 percent of New York State's prison population has been released.
Advocates want Cuomo to release far more people. Cuomo can grant compassionate release, through his clemency powers, to elderly inmates, as well as those with health conditions who put them at higher risk. Cuomo can release the thousands of people currently incarcerated on noncriminal technical violations of their parole, like missing an appointment with a parole officer. There are some 4,000 people incarcerated in New York prisons for these non-crimes.
Cuomo's refusal to do more is in line with his past approach to clemency. He did not commute the sentence of a single person in the entirety of his first term. His clemency project, launched in 2015, has moved so slowly that some law firms are reluctant to tackle new cases. "It became hard for those working on these intensive applications to justify continuing to do a large volume of this unfunded work given the low number of individuals that were actually receiving relief," a legal aid attorney told the City last year.
As of 2020, Cuomo has commuted the sentences of less than 30 people. In recent years, Cuomo has granted fewer clemencies than many other governors, including Republican Kevin Sitt of Oklahoma and Democrats John Bel Edwards of Louisiana and Gavin Newsom of California. It's the sort of troubling record that will continue to be overlooked, as long as the media focus is elsewhere. Cuomo knows this. He's a smart enough executive to understand what's going to make a dent in his poll numbers and what probably won't.