Discover more from Political Currents by Ross Barkan
This is Ross Barkan's newsletter - original essays on politics, society, and culture
Over 8,000 subscribers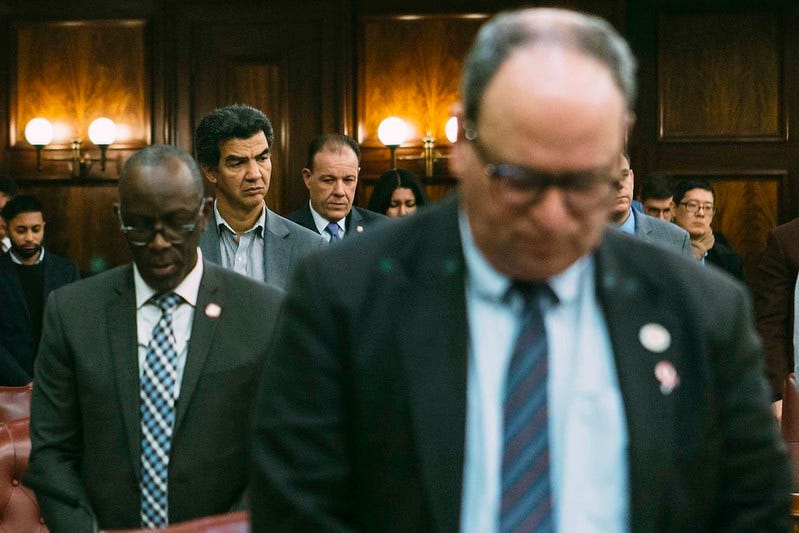 Before jumping into this newsletter, I hope you can take a gander at my new story for the Nation on the history of police power in America. I look at the evolution of police unions in New York City and elsewhere and the greater conflicts in the labor movement today.
---
Earlier this week, the New York City Council approved the city's budget for the new fiscal year. For the last few years, these budget votes have been ho-hum affairs, with few real squabbles as Mayor Bill de Blasio and Speaker Corey Johnson agreed to an escalating number of priorities for the 51-member, Democrat-dominated body. Long gone were the days when Michael Bloomberg would threaten to close firehouses or slash funding for libraries and council members would rally to their defense, completing what was then known as, appropriately enough, the budget dance.
This time, the situation is far more dire. Ravaged by coronavirus, New York City is bleeding tax revenue, its economy in freefall. Unemployment is nearing 20 percent and could be even higher, especially as more restaurants, bars, and hotels begin to close for good. Young people and those with means are contemplating fleeing the city. The next few years, from an economic standpoint, pose a challenge for the five boroughs not seen since the 1970s fiscal crisis. Without federal aid, tax increases, or the borrowing of money, austerity is the only recourse. Deep cuts, in turn, will be difficult to come back from. As we learned from the great recession a decade ago, budget cuts only beget more economic pain and prolong the recovery. In a rational world, the federal government would offer a virtual blank check to New York City, as it did during the Great Depression, to greatly expand social services, bolster public transportation, fund public schools, and build far more affordable housing. But Donald Trump, until January at least, runs the federal government. The residents of the city will have to hope and pray the Republicans go down in defeat this fall.
Into this environment comes the current budget fight, which catalyzed over how much the NYPD should be funded. Given the fact that other facets of city government, like education and a jobs program for young people, were facing reductions in Mayor Bill de Blasio's initial budget proposal, it was understandable that austerity should be demanded for the police as well, who tend to be spared fiscal pain during downturns. After George Floyd's death in Minneapolis, the movement to defund police graduated from a more fringe, academic issue to a mainstream cry, with mass protests demanding departments across the country undergo severe reductions or be abolished altogether. Personally, I am sympathetic to such calls, though I am not a police abolitionist. The NYPD budget, at almost $6 billion going into this budget negotiation—that figure may be low, because there is unaccounted for spending—occupies the second largest chunk of the city's budget, after education. (At about $27 billion, DOE is by far the largest expenditure.) Activists coalesced around a demand to cut at least $1 billion, with the Democratic Socialists of America (DSA) calling for as much as $3 billion, or half, to be chopped from the NYPD and be redirected to social services.
The budget that emerged, predictably, did not cut $3 billion from the police and approached $1 billion on a technicality, angering many on the left. Johnson, the speaker, was hamstrung in part by the number of Democratic council members who did not want deep cuts to the NYPD, including Black and Latino members. With shootings now on the rise, there was concern that a great decrease in police presence would fail to contain what is a troubling trend, likely brought on by the pandemic. Some of these members, along with many white liberals, were behind a push five years ago to hire 1,000 new police officers. Many of the progressive council members rejecting the current budget were ardent supporters of adding police in 2015, including the current Public Advocate, Jumaane Williams. Downsizing—and demilitarizing—the police significantly and reallocating funding elsewhere is a worthy goal. With this current City Council, however, it's not likely to ever happen. And, in their defense, the council members were in quite a bind. Facing a near $10 billion budget deficit, New York City must by law balance its budget by July 1st or face a state takeover of its finances. This is a law dating back to the 70s fiscal crisis, when the city nearly went bankrupt. In essence, if New York City doesn't deliver an on-time budget, Governor Andrew Cuomo and the State Legislature have the power to set the city's budget priorities and enact severe cuts.
Luckily for the socialist left, next year offers a once in a generation opportunity. Of the 51 seats on the City Council, a whopping 35 are term-limited. In recent history, this kind of opportunity has only come along twice: in 2001, when term limits were first introduced for city offices, and in 2013, when another generation of council members and citywide elected officials were term limited following the brief, very unpopular overturning of the term limits law in 2008. Each time, a more progressive cohort of elected officials emerged. It's hard to remember now, but the class of 2013 was hailed at the time as a young body on the vanguard of progressive politics nationally. Many of the council members DSA derides today were once regarded as anti-establishment leftists who came together to elect a speaker, Melissa Mark-Viverito, over the chosen candidate of the Queens and Bronx Democratic machines, Dan Garodnick.
But being a self-described reformer or someone opposed to a county organization does not, by definition, make you a democratic socialist—or even a leftist. There are no DSA-endorsed lawmakers serving in the current City Council. This is because DSA only began asserting itself in electoral politics in 2017, since it grew enormously after Bernie Sanders' 2016 campaign and the election of Donald Trump. In 2021, 35 City Council seats will be vacant, along with the office of mayor and city comptroller and public advocate, if Williams runs for mayor. DSA doesn't quite have the capacity to run their own candidate for mayor, though they could end up endorsing in the way they did for governor in 2018, when the organization threw its weight behind the Jumaane Williams/Cynthia Nixon gubernatorial ticket. Though the decision was controversial at the time—neither progressive candidate could claim a lifetime of identifying as a socialist—it seems to have paid dividends, as Nixon—one of the more acclaimed actresses of the last 25 years—is now willing to endorse entire DSA slates, as she did for their state and congressional campaigns this June.
The Williams/Nixon endorsement offers one roadmap for DSA next year, as they seek to establish a beachhead in the City Council. Though the State Legislature and Cuomo, as I've written before, wield far more power and New York City, a metropolis of eight million, can feel like little more than a colony of state government at times, individual council members can have more autonomy and clout than state lawmakers. The Council speaker, like everyone else, is term-limited, effectively capped at a four-year term, since the body seems unwilling to elevate any first-term lawmaker to the speakership. (2021 could change that.) Since speakers are limited in how long they can serve, they are more accountable to their councilmembers and less able to push them around. Carl Heastie may be the Assembly speaker 20 years from now, which confers great influence on his position. Corey Johnson, meanwhile, is scrambling to run for mayor, potentially out of a job in 2022. As I've noted, there are 51 council members, which can sound like a lot until you realize there are 63 state senators and 150 assembly members and all of them are, to some extent, under the thumb of the speaker and majority leader. This speaks to the importance of electing more leftists there so they can move their leadership left, but the project will take longer, particularly without term limits or another shock cycle like 2018, which saw the defeat of six IDC members and a mediocre Democrat, Martin Dilan. A smaller legislature, meanwhile, makes it easier to form blocs, hold out for certain bills, or derail an unfavorable budget. A socialist City Council takeover will be much easier than any comparable project in Albany.
As frustrated socialists learned this week, the City Council's primary leverage point is setting budget priorities with City Hall. New York City has an enormous budget, one of the biggest anywhere in America, so this is an important job. The second point of power for the City Council is the land use process, which determines what gets to be rezoned in New York City. For a socialist, this is another node of possibility. Developers could be forced to build deeply affordable housing. The city could be compelled to turn far more vacant hotels into housing. The community land trust model could be replicated on a wide scale. A City Council with a united socialist bloc could attempt all kinds of fascinating things. Doubling the funding for parks and libraries, which make up under 1 percent of the budget. Radically increasing funding for community colleges, which are primary funded by the city, unlike CUNY senior colleges. Creating a subsidy program to make mass transit effectively free. Attempting some sort of municipal universal healthcare. Socialism was once a feature of many large urban areas a century ago. It could be again.
For most organizations and labor unions going into an election cycle like 2021, the calculus is pretty simple. Endorse a large slate and try to claim as many victories as possible. The Working Families Party, once a hybrid of activists and organized labor and now just an umbrella of activist organizations, will do this again. They will have their priority races but many of the top candidates seeking one of the 35 open seats will have the WFP ballot line. This will allow the political party—it is nominally one, for a variety of reasons—to claim many victories heading into 2022, which is something of a WFP specialty. As an established brand with more than 20 years in New York politics, the WFP is able to command a degree of loyalty from the politicians it helps elect. Depending on the race, it's unclear exactly what WFP does for a chosen candidate. For priority candidates, the WFP functions as a quasi-political consultant and political action committee, helping to pay for staff, mailings, and a digital operation. For others, WFP is little more than a banner to run underneath, a signal to certain liberal Democratic voters that this candidate has the progressive seal of approval.
DSA does not operate from this model. This, in many ways, is admirable. Unlike WFP, they run a highly transparent endorsement process. Local branches take binding votes on candidates. All votes are open to the membership and public. As a candidate, I sought the endorsements of WFP and DSA and won neither, but I had a far better sense of how the DSA endorsement process unfolded. Members have genuine debates over a candidate's questionnaire and reach consensus. The mechanics of a WFP endorsement are far harder to scrutinize from the outside. WFP leadership has been known to override local chapters. To this day, it's not entirely clear how WFP endorsed Elizabeth Warren over Bernie Sanders for president. Did the mass membership vote matter? How much weight was really ascribed to any kind of popular vote? The WFP's politics have moved increasingly left in recent years on social and economic issues—the days of endorsing Republicans are over!—but their sensibility is more cultural-liberal than socialist. Hence, selecting Warren over Sanders. DSA only endorses a handful of candidates per election cycle. Since they are a volunteer-driven organization, one of the few anywhere who can marshal hundreds of volunteers for a given cause, they are perpetually cognizant of their capacity. You will hear this in DSA a lot. Do we have capacity for this kind of campaign? It's why the DSA slate for this June was rather small. One State Senate candidate, three Assembly candidates, and one House candidate, plus two incumbents, Julia Salazar and Alexandria Ocasio-Cortez. Every endorsed candidate, the philosophy goes, should receive a maximum effort from DSA—a large number of volunteers, fundraising capacity, and attention to communications and digital strategy.
This approach has served DSA well. It may also not be a fit for 2021. With so many open seats, DSA has the potential to lay claim to around a third of them, at least. In Queens, socialists can plausibly win Council Districts 22 (Astoria), 25 (Jackson Heights), 26 (Sunnyside), and 29 (Forest Hills). In Brooklyn, they can win Council Districts 33 (Greenpoint, Williamsburg, Brooklyn Heights), 34 (South Williamsburg and Bushwick), 35 (Clinton Hill, Fort Greene), 36 (Bedford-Stuyvesant), 37 (Bushwick and East New York), 38 (Red Hook and Sunset Park), and 39 (Park Slope, Gowanus). These are all gentrifying areas with a large number of younger, newer residents, where DSA has already performed well or has the potential to do so. I am excluding other parts of the city where DSA, with the right candidate, can also win. In 2017, DSA nearly won a City Council seat in Bay Ridge and Dyker Heights, hardly a traditional bastion of socialism.
With so much opportunity, what should a socialist organization do? I believe DSA should think big, not small, and put aside some of the concerns about capacity that have come up in previous cycles. By endorsing such a large slate, it's undoubtable some candidates will receive more help than others and resources will be spread thin. At the same time, it will be important for DSA to engender loyalty to their brand in as many new city council members as possible. Labor unions call in favors because they've successfully endorsed so many politicians who may feel they owe something to 32BJ or UFT. DSA can't build an effective bloc in the City Council with only a small number of members. Two or three or even five would be an improvement over zero, but 10 would mean wielding profound influence over the biggest municipal budget in America for the next eight years. It would all but guarantee the next City Council speaker is socialist-friendly. Historically, council speakers were chosen with the Queens and Bronx members voting as blocs, taking direction from the Democratic machine bosses of each borough. But the Queens Democratic Party will no longer exert such influence in a post-Joe Crowley world. Bronx isn't big enough to pick up the slack. The 2021 speaker's race will be a true free-for-all, with a wide array of candidates and factions. DSA has the potential to build the biggest.
It will be rather easy for DSA to fundraise for a large slate here, unlike an effort for state and federal candidates. City Council candidates receive public matching funds for their campaigns. The match is now as high as 8:1. A few well-placed fundraising emails with the right kind of endorsement—would Ocasio-Cortez deploy her list for the DSA slate?—could help many candidates hit the maximum threshold for spending. It will also be important for DSA to endorse early, which it sometimes has struggled to do in the past, with such a democratic, multi-tiered process. Early endorsements set a tone and breed loyalty. Candidates remember. My own theory for Ocasio-Cortez's lack of interest in stumping for DSA itself (not the causes) is that the organization didn't back her until April when her primary was in June. They didn't take "ownership" of her campaign until she was well on the way to defeating Crowley. In subsequent races, DSA has endorsed earlier and been more cognizant of elevating rank-and-file members, who are likely to continue to stay active in DSA after their election, like Salazar. While the great levers of power exist in the state and not the city, DSA has a remarkable opportunity next year to seize control of city government like few leftists ever have. The WFP's various successes in the City Council led to real progressive policy victories—paid sick days, a living wage law—but operated within an acceptable framework of liberal change. Bound to labor unions and self-aware of their standing with the more traditional-minded politicians they had helped elect, WFP could only shift the paradigm so much. DSA, however, would be in a very different position. Imagine, for a moment, 10 or 12 politicians like Salazar or Ocasio-Cortez serving on the City Council, together. It would be a moment without any real precedent.