Discover more from Political Currents by Ross Barkan
This is Ross Barkan's newsletter - original essays on politics, society, and culture
Over 8,000 subscribers
Phil Murphy is New York's Alternate Universe Governor
What if a conventional, center-left liberal led New York State?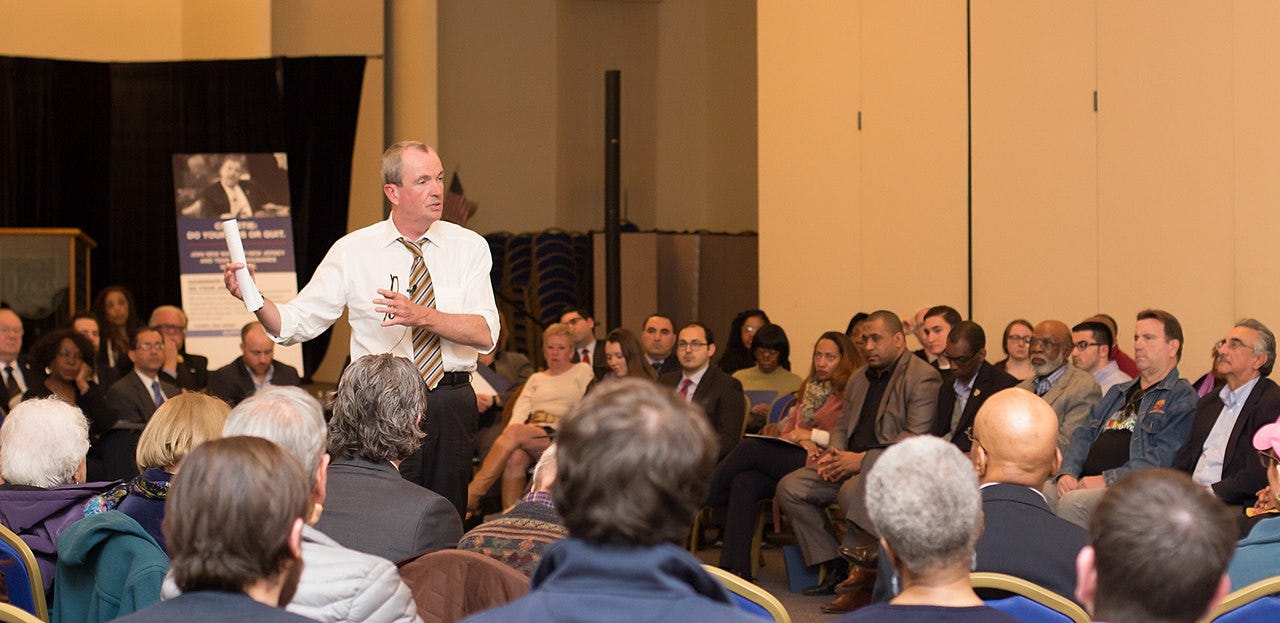 Last week, Phil Murphy, a former Goldman Sachs executive and the first term governor of New Jersey, agreed to a new tax hike on wealthy households to help make up for massive COVID-19-induced shortfalls. The "millionaire's tax" would raise state taxes on incomes north of $1 million by less than 2 percentage points, generating an estimated $390 million in revenue for this fiscal year. The move is not particularly radical; it is what executives have done during most economic downturns, when successful households are asked to pitch in a little more to help out the rest of a struggling society. After the 2008 economic crash, New York enacted its own millionaire's tax to help fill a looming budget gap.
But Andrew Cuomo was not governor then. Elected in 2010 on a platform of opposing public sector unions and tax increases, Cuomo has mostly stayed true to his Third Way roots, with occasional pivots left when enough pressure was exerted on him. Cuomo had been forced to safeguard the millionaire's tax, passed under his predecessor David Paterson, but he has implemented a hard cap on local property taxes that has constrained the budgets of local public schools for a decade. He has refused, repeatedly, to approve new tax hikes on millionaires and billionaires, though New York has many of them. When the economy recovered in the 2010s, Cuomo's resistance to raising taxes was, for the left, unfortunate but not catastrophic. New York State was consistently generating tax revenue. It was mismanagement, not a cratering economy, that snagged funding for much-needed public infrastructure projects.
COVID-19, of course, has changed all of that. New York was the global epicenter of the pandemic and remains, many months after the curve was flattened, the state with the highest death toll. New York City's unemployment rate has hit 20 percent and could very well be much higher, as the hospitality, tourism, and restaurant industries struggle mightily for survival. Midtown and Downtown Manhattan are relative ghost towns and most office workers are working remotely. This is the most dire economic challenge New York has faced in at least 45 years, since the city nearly went bankrupt in 1975. In some sense, the 1970s fiscal crisis was worse because it had been decades in the making, fueled in part by forces like white flight and globalization that were beyond the city's control. Coronavirus, however, has been such a profound shock to the city's core; it's hard to fathom anything comparable. It is almost as if a series of large bombs were dropped on New York City in March and April and we are all struggling through the carnage and wreckage, trying to rebuild society as we knew it before. The elderly who remember Europe in the aftermath of World War II might have some advice for us.
We are living in extraordinary times. Under a conventional president, there would be a mass federal bailout for all the states hit hardest by coronavirus. The federal government can borrow and print money virtually indefinitely. With inflation and interest rates nearly nonexistent, there should be no concern about deficits. In a rational world, Congress and the White House would send a blank check to New York City and, in a few months, the fiscal footing of America's largest and most important city could be restored, with more money promised if the recovery drags in any form. The fallout from the 2008 crash lingered because President Obama and his cabinet did not pursue stimulus spending with enough aggression or ambition, failing to spend even $1 trillion to rescue the economy. Even Donald Trump has surpassed that number. But Trump and Mitch McConnell, the revanchist Republican majority leader of the Senate, do not want to authorize local aid for the states. They especially don't want to help New York City. The only hope, on the federal front, is that Joe Biden defeats Trump and Democrats retake the Senate. In 2021, New York, in this scenario, could receive the bailout it deserves.
Cuomo, unlike Murphy, has adamantly refused to raise taxes on the wealthy, despite calls from Democrats in the Assembly and State Senate to do so. Cuomo has argued that the federal government should authorize the aid instead, which would be understandable if Trump and McConnell did not control the federal government. Cuomo has intimated that raising taxes would hurt New York's leverage with the federal government, since Trump could theoretically say New York doesn't need money if it already hiked taxes. But there's no evidence Trump or McConnell care either way: long ago they made it clear they had little interest in directing tens of billions to New York. Absent federal aid, New York must attempt to rescue itself and stave off the worst fiscal damage, hoping Democrats help the city later on. Mayor Bill de Blasio, absent new aid or borrowing, has threatened to lay off 22,000 municipal employees. At some point, local services will begin to contract if new revenue in some form—borrowing, higher taxes, or federal aid—does not arrive.
Austerity would be disastrous and inhibit any chance of a quick recovery. Murphy, in approving a millionaire's tax, understands this. There is no rational reason to rely on a federal government led by Trump. In New York, there are a raft of proposals in the Democrat-controlled legislature to raise taxes on millionaires and billionaires, from one-time surcharges on people making more than $5 million to reviving the stock transfer tax to various other wealth taxes that could, in sum, raise as much as $35 billion a year, advocates say. Even if these numbers are exaggerated—some have argued the stock transfer tax could be easily ducked by running financial transactions in another state—there is no doubt some form of income or wealth tax would raise much-needed revenue for public schools, public transit, hospitals, and social services at a time when the wealthiest people in America have seen their profits increase. The pandemic, tragically, has been a disaster for artisans and small businesses while being a boon for corporate America. Wall Street is humming. The wealthy can afford to pay.
Cuomo's argument, repeated ad nauseam, is that the rich will simply decamp if their taxes go up slightly. New York has suffered population loss under his governorship but there is no evidence it's the ultrarich fleeing over high taxes. Instead, it's poorer upstate regions that have lost people, a trend that has been underway for decades, thanks to deindustrialization and globalization hollowing out once vibrant manufacturing cities. There is scant evidence to show millionaire's taxes have deprived states of revenue or triggered large amounts of capital flight. With so many states now under duress, it's not as if there are many more welcoming places for the rich to relocate to and park their capital. Strangely enough, Cuomo has argued that the wealthy living in second homes in the Hamptons and the Hudson Valley is evidence that New York should not raise taxes, even though these second homes are within the confines of New York State and new state tax revenue could just as easily be funneled into New York City. Even Michael Bloomberg, one of the wealthiest men who has ever lived, enacted a tax hike after 9/11 to close an enormous gap in the city's budget.
The blunt truth is that Cuomo, thanks to New York's absurd campaign finance laws, can accept more than $50,000 from a single donor and his political survival has been dependent, from the very beginning, on the generosity of the ultrawealthy. He has grown especially close to finance and real estate titans, using their cash to spend unprecedented sums of money to swamp primary challengers. Cuomo's opposition to progressive tax policy, his support for charter schools, and his longstanding alliance with real estate developers and landlords over tenants can all be traced to the advocacy of his prolific donors. But there is something else at play too—Cuomo genuinely believes this stuff. He has demonstrated, over and over, he is a child of the Democratic Party of the 1980s and 1990s, when young upstarts like Bill Clinton and Paul Tsongas made their careers assaulting the New Deal legacy.
Phil Murphy, elected as governor of New Jersey in 2017, should belong to the same camp. A former ambassador to Germany under Barack Obama, Murphy was born less than four months before Cuomo in 1957. He spent more than 20 years at Goldman Sachs, amassing considerable personal wealth. Murphy, like Cuomo, came of age in a dark era for progressive politics, when Democrats were encouraged to shun redistributive policy and generous social safety net programs. It was a time when the left and right looked increasingly alike: liberals and conservatives championed violent interventions abroad in the name of democracy while calling for a more unrestrained version of capitalism at home that would grow corporate power at the expense of the working and middle classes. The excesses of the 1980s and 1990s would trigger the crisis of 2008, crippling Americans for a generation. Income inequality, once relatively tame in the postwar period, ballooned radically.
Murphy, then, should have been another Democrat to be wary of, a version of Cuomo who had simply enjoyed more personal financial success and not risen to power on the coattails of a more famous father. Instead, Murphy campaigned and won on a progressive platform and, to the pleasant surprise of those who expect most Democrats to sell out their voters, attempted to implement it when he came into office. New Jersey, politically, has become a mirror-verse of New York. In each state, Democrats control the legislature and the executive branch. In each state, the governors are powerful men born in 1957. But in New Jersey, the Democrats in the legislature are right-leaning and closely aligned with longstanding political machines that don't exist in such a form in New York. In New York, a centrist governor foils the ambitions of a more progressive state legislature. Across the Hudson, the opposite is the case: it is Murphy, the former Goldman Sachs executive, attempting to enact left policy over the wishes of conservative Democrats.
The millionaire's tax represents a victory for Murphy, who overcame long-running opposition from the powerful Senate president, Stephen Sweeney, an ardent critic of taxing the wealthy. Murphy has supported two other initiatives that would be out of the realm of possibility for Cuomo unless relentless pressure was applied from the outside: the creation of a state-owned bank and a "baby bonds" program. The bank, which would be one of the only of its kind in America, would invest millions of dollars in state deposits usually kept in commercial banks back into New Jersey communities. It could offer tax money to community banks for small business loans, small-scale infrastructure projects and student loans. Any profit generated would return to the state budget.
The baby bonds program, inspired by New Jersey Senator Cory Booker, would mean most babies born in New Jersey would be entitled to a $1,000 state-financed nest egg when they turn 18. (With interest, the money would be worth slightly more.) The idea is a simple one to reduce income inequality and help young people, particularly from poor backgrounds, begin their adulthood with a savings account. The program is estimated to cost only $80 million a year, a small slice of New Jersey's roughly $40 billion budget. It would apply to children born into families earning less than about $131,000 a year, or 500 percent of the federal poverty level—about 70 percent of all New Jersey residents, according to Murphy's office. Advocates for baby bonds view them as a straightforward way to address wealth gaps between white and nonwhite households.
Neither idea is radical. Murphy is no democratic socialist. Rather, he is a conventional center-left Democratic governor, belonging to a cohort that includes California's Gavin Newsom, Washington's Jay Inslee, Wisconsin's Tony Evers, and Michigan's Gretchen Whitmer. Unlike Cuomo, they all occupy the median of the Democratic Party in 2020. Murphy is a view into what New York could have—an ordinary liberal who would rather uplift the progressive movement than denigrate it. Most Democratic governors, unlike Cuomo, want to elect more Democrats to their state legislatures and champion policy that redistributes money to the working class and poor. Most Democratic governors are averse to austerity. Cuomo is the political mutant here, an outlier who has faced two Democratic primaries from the left and will probably endure another in 2022. In this context, Murphy, the progressive reformer, is almost heroic, but he should not be understood this way. Instead, New Yorkers should see him as relentlessly normal. A sane executive should want to raise new revenue during an economic downturn. A sane executive should be seeking some kind of solution for racial and economic inequality. In the end, Cuomo's favorite New Jersey governor is probably Chris Christie, the thuggish Trump sycophant. That should tell you all you need to know.