Discover more from Political Currents by Ross Barkan
This is Ross Barkan's newsletter - original essays on politics, society, and culture
Over 8,000 subscribers
Roy Cohn's Acolytes Once Tried to Take Over the Manhattan Democratic Party
A young Scott Stringer was one of them.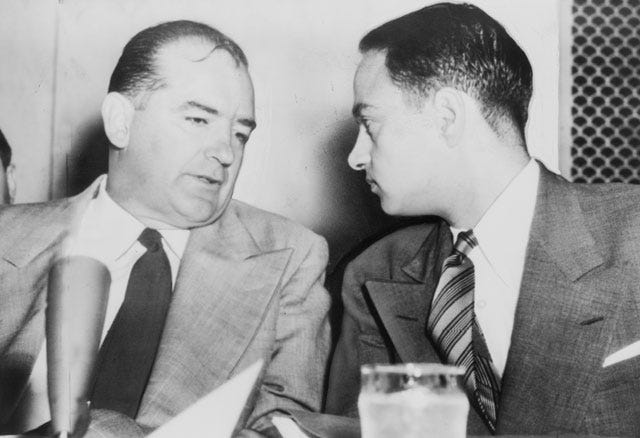 Much of our national nightmare today can be traced back to the municipal politics of New York in the mid-1970s. It was then that Abe Beame, the machine Democrat who was mayor, handed out a 40-year tax abatement to a belligerent young real estate developer named Donald Trump to remake the old Commodore Hotel near Grand Central Station into something far grander. The enormous tax break was unheard of at the time, a product of the looming fiscal crisis—the ailing city was in desperate need of investment—and the close connections Trump's father, Fred, had forged with Beame. Unlike his 29-year-old son, Fred Trump was a self-made millionaire and one of the most powerful men in New York, a cutthroat businessman who had built vast swaths of middle class, largely segregated housing in the outer boroughs, benefiting from generous public subsidies. Fred lived in Queens and worked in Brooklyn; Beame, a product of the powerful Madison Democratic Club in Flatbush, knew Fred well, as did any Democrat in New York who mattered.
The Commodore deal, which could only have been consummated by Fred and the promise of his own wealth—his son had little to his name and no bank would loan him any serious amount of money—would launch Donald's career, serving as its founding myth. Without New York Democrats, there would probably be no President Donald J. Trump. Beame himself did not work out the particulars of the tax abatement. That was left to his deputy mayor, Stanley Friedman, who would later join the law firm of the notorious attorney, Roy Cohn, who was Donald Trump's mentor and an advisor on the Commodore deal. Cohn had gained infamy for prosecuting Julius and Ethel Rosenberg and serving as the chief counsel to Joseph McCarthy, the demagogue senator who fueled the Red Scare in the 1950s, falsely accusing numerous people of being Soviet spies. Rather than mar his reputation permanently, McCarthyism merely launched Cohn's legal career.
Cohn was Trump's lawyer. He also represented Mafia figures, the owners of Studio 54, and Aristotle Onassis, among other bold names. No stranger to controversy, Cohn nevertheless mingled easily in high society. Though he was a conservative, informally advising Richard Nixon and Ronald Reagan, Cohn was something of a power broker in New York Democratic politics. Friedman, his law partner, would become chairman of the Bronx Democratic Party, rising to become one of the most influential men in the state until he went to prison on corruption charges stemming from the Parking Violations Bureau scandal. In the late 1970s, though, Friedman was a true heavyweight and Cohn, his law partner, sought to play a larger role in local Democratic politics. Beame even attended a party to celebrate Cohn's 25th anniversary of his admittance to the City Bar Association.
In 1977, Cohn helped elect a hot-headed ally named Marie Lambert to the Manhattan Surrogate Court judgeship. Despite the City Bar Association deeming her unfit to serve on the bench, Lambert defeated the Democratic establishment and overcame the disdain of influential editorial boards. "Mention the Association of the Bar, and I throw up," Cohn told the New York Times. '"One of my favorite things is taking on the stuffed‐shirt Establishment." Lambert, like Cohn, had little regard for following rules or the mores of good government. A judicial conduct commission investigated allegations that she was the most hands-on of fundraisers for the 1977 primary, in which she sent out 300,000 pieces of literature and saturated the city with Lambert paraphernalia. Surrogate's Court, then and now, is a den of political patronage, where well-connected lawyers earn cash from the estates of those who die without wills and reap fees as guardians handling the financial affairs of those too young or incapacitated to manage them.
Installing Lambert, whom the Times called a "patronage Queen," was a coup for Cohn. But he wasn't done there. Working with Friedman, Cohn backed a slew of Manhattan district leader and judicial delegate candidates in 1979, hoping to defeat the reformers who had dominated the party since the downfall of Tammany Hall. These Cohn acolytes were called, poetically enough, Cohnheads. It was the retired blogger Gatemouth who first tipped me off to their existence, having lived through the era. The Cohnheads were described, in the best available account of their curious existence, as masters of "the last-minute smear, the appeal to ethnic prejudice, and the judicious use of patronage."
An anonymous politico told the Village Voice: "These people are haters. They'll stop at nothing and they're crazy."
One of them was a teenage upstart named Scott Stringer.
Stringer, now the city comptroller and a leading candidate for mayor, was a Cohnhead in Washington Heights, according to the Voice. Stringer, along with other candidates for district leader and state committee, ventured to the Board of Elections with Cohn-allied attorneys to try to kick rivals off the ballot. The connection to the Cohnheads came through Stringer's mother, Arlene Stringer, who was married to Ronald Stringer, a counsel to Beame. Arlene Stringer, appointed to an upper Manhattan City Council seat in 1976, had been closely allied with Lambert, the controversial judge and Cohn protégé.
Stringer's involvement with the Cohnheads seemed to begin in 1978 when he worked with Helene Goldstein, a Democrat running for Manhattan Civil Court. The architect of the effort was a man named Gary Nicholson, who wanted to overthrow the reform Democrats and become Manhattan's party boss. Before Goldstein, Nicholson had managed Lambert's successful campaign in 1977.
In the bare-knuckled 1978 primary, Goldstein attacked her reform Democratic opponent, Shirley Fingerhood, for belonging to the liberal National Lawyers Guild. Under Nicholson's direction, Goldstein "put out vicious mail­ings calculated to appeal to bigotry and Jewish fear, under the phony rubric of the 'Manhattan Chapter of the Zionist Com­mittee for Israel.'" They were, in the words of the Voice, "reminiscent of McCarthyism at its worst." Nicholson had used a phony name and address on the campaign literature and Post Office documents, an apparent violation of state law.
The Voice blamed Stringer directly for the mailing. "In fact, Scott's campaign re­ceived a $2000 fee from Goldstein for its work on her behalf, and the Stringer peo­ple helped mail out the 'Zionist Commit­tee' smear piece against Shirley Finger­hood."
Not much appeared to come of the Cohnheads. Nicholson faded from view. Lambert remained on the bench until her mandatory retirement in 1990 and would die in 1997. Stringer's mother, Arlene, was ousted in 1977 by Stanley Michels, a regular Democrat who won the backing of the reformers. Cohn himself died of AIDS-related complications in 1986. Friedman, a year later, would go to prison.
Stringer went on to be associated with more upstanding Democrats. He was elected as a Democratic district leader in the early 1980s and became an aide to his local assemblyman, Jerry Nadler. When Nadler was appointed to replace the late West Side congressman, Ted Weiss, Stringer won a backroom contest to secure the Democratic nomination for Nadler's Assembly seat. Nadler was in Congress and Stringer had hopped a rung on the political ladder. The two would rise together. The Cohnheads—if not Cohn himself—would be lost to history.