Discover more from Political Currents by Ross Barkan
This is Ross Barkan's newsletter - original essays on politics, society, and culture
Over 8,000 subscribers
The New York Times is More Powerful Than Ever
The Gray Lady's endorsements in the upcoming June primaries are closely watched - for good reason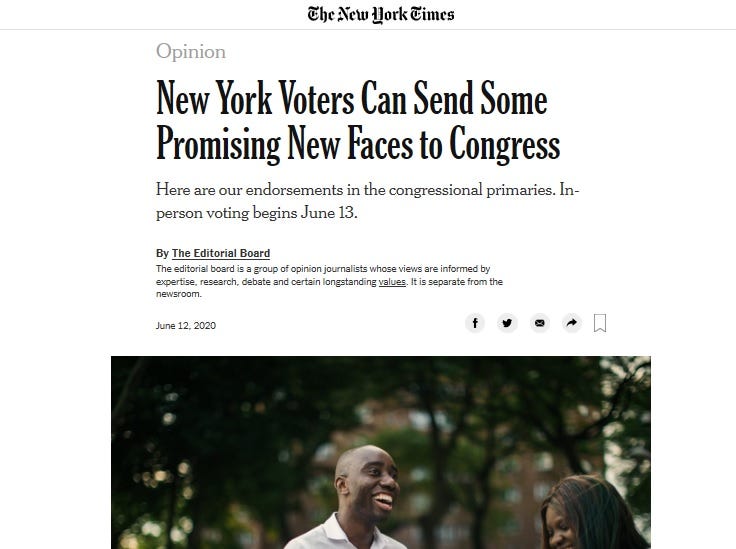 On Friday, the New York Times unveiled its much-anticipated list of endorsements for the June congressional primaries, once again thrilling or devastating a wide array of candidates. None of the choices were necessarily a surprise. Either the Times endorsed well-known incumbents like Carolyn Maloney or Jerry Nadler or opted for progressives with clear momentum and fundraising prowess, like Mondaire Jones, Adem Bunkedekko and Jamaal Bowman. After Alexandria Ocasio-Cortez's startling upset two years ago, the editorial board has grown far more amenable to buzz-worthy insurgents. Bowman is one, taking on longtime incumbent Eliot Engel. And last year, hoping not to make the Ocasio-Cortez mistake twice in Queens, the Times backed leftist Tiffany Cabán over establishment favorite Melinda Katz in the race for Queens District Attorney.
Any conversation with someone who works in politics will tell you how seriously the Times endorsement is taken. In New York City and the suburbs, particularly in more affluent communities, the newspaper is still a daily bible, consumed religiously in newspaper form and online. If younger readers are eschewing print, they are increasingly willing to pay for digital subscriptions, which have become a boon for the Times, saving it from extinction. For all the controversy the newspaper attracts, it is as highly regarded, among educated consumers, as it's ever been. As Ben Smith, the new Times media columnist, argued earlier this year, the decimation of media nationwide has left the Times in an even stronger position as the de facto hegemon of a charred landscape. As traditional newspapers and digital start-ups alike shrivel and die, the Times is left to poach its best talent and expand their influence, agenda-setting for the foreseeable future.
The Times endorsement doesn't guarantee victory. It never has. In a presidential race, it's virtually useless, since millions of people follow national politics closely enough to form hardened opinions that can't be swayed by the opining of an editorial board. This was most painfully clear in January when the Times undertook the absurd exercise of transforming their Democratic primary endorsement into a reality TV show. It was rightfully mocked and became representative of their inability to move mass opinion in a presidential contest: their co-endorsement of Elizabeth Warren and Amy Klobuchar was a failure, as neither candidate won a single state or came terribly close. Perhaps someone could rationalize that Klobuchar gained slightly, briefly becoming a competitor in New Hampshire. But the two candidates who the liberal editorial board plainly despised—Joe Biden and Bernie Sanders—emerged as the two most popular candidates, by far, for Democratic primary voters across America. Each assembled their own versions of multiracial, working class coalitions. Biden's was bigger and older and he won the primary going away, no thanks to the Times.
Local races are a different matter entirely. Back in 2012, David Freedlander, then of the New York Observer, wrote about the power of the New York Times' endorsement in local political races. "The Times' coverage of local politics has shrunk in recent years with the closing of the Metro section, but the paper's ability to make or break candidates has grown," Freedlander wrote. "In conversations with nearly two dozen political operatives, office holders and candidates, the consensus was that The Times remains the biggest single factor in deciding who gets elected in this town."
This is all still very much true. I can attest to it as someone who has reported on New York politics closely since 2012 and even run for office myself. (I won the Daily News endorsement; the Times declined to endorse at all in my primary.) In 2020, the Times endorsement in Assembly, Senate, and Congressional contests is as sought after as ever, coveted more than almost any politician or labor union's backing. What's ironic, though, is that the Times has covered the machinations of New York politics and policy even less since Freedlander wrote his story. Coverage elsewhere has shrunk as well. In 2012, I was in my first full year as a reporter, working for the Queens Tribune. Queens had at least four boroughwide newspapers, Tribune included, and both the Daily News and Observer maintained politics blogs that were updated daily with news and observations on local political contests. The News still had its borough bureaus, too, and newspapers like the Village Voice could produce investigative pieces on seemingly obscure city councilmembers. (After the Tribune, I would work for the Observer, helping to run their blog, Politicker.)
The Times was already in retrenchment from the local political scene, but still employed columnists who would weekly probe wrongdoing in the outer boroughs. My education in New York politics began with Michael Powell, who wrote on the inner workings of the Queens Democratic machine and profiled a Russian-American power broker in Southern Brooklyn. Though the Times had ended its standalone Metro section in 2008, reporters were still churning out updates on the happenings of local campaigns. A prolonged 2012 State Senate special election in Brooklyn, between Lew Fidler and David Storobin, produced no fewer than nine stories. It's unclear such a contest, held today, would rate more than a single story—if it was mentioned at all. To my shock, Fidler's death in 2019 didn't even motivate the Times to write an obituary. In the past, this would have been unthinkable. Fidler was a three-term city councilmember and a fixture in the New York political scene for decades. Had he died in 1999, he would have been memorialized forever.
Go back further and you understand what exactly was lost. In 2015, I wrote an in depth profile of Chuck Schumer for the Observer and part of my task was to dig deep into the archives to understand how Schumer rose to power—from a young assemblyman fresh out of law school to minority leader of the U.S. Senate. The Times digital archive was invaluable. I found many stories that featured Schumer, which wasn't a surprise. What struck me most, though, was that Schumer was frequently quoted in the Times as a state assemblyman. Though he lacked seniority, he was able to have his efforts chronicled in the newspaper, whether it was a push to personally fill in potholes or a strange escapade in which he caught a young female burglar. (Don't ask.) This was possible not just because Schumer was press savvy. It happened because the Times once dedicated many more reporters to writing about all parts of New York City, including the overlooked outer boroughs. Granular, daily coverage of local politics was just the reality of the Times of that era. A person could learn a lot about their backyard merely picking up and reading the Times every day. In 2020, that's impossible. A journalist of the future, seeking to learn more about what transpired in New York City at this time, will struggle for answers.
Times journalists today are quite talented. Metro reporters save their fire for blockbuster investigations that win awards, and that's fine. In depth, investigative reporting is incredibly important. But daily coverage of the city in the way that matters is gone. Most political races aren't mentioned at all. If they do enter the Times' New York section, they come in the form of a retrospective late in the campaign, as a fluffed up overview with a few spicy quotes thrown in. In 2018, the Times was rightfully lambasted for hardly noting Alexandria Ocasio-Cortez at all until she defeated Joe Crowley. My recollection of Ocasio-Cortez's Times debut was an overview, late in her campaign, on various insurgents who were challenging incumbents. The story was most notable, at the time, for Suraj Patel's campaign tactic of hitting up voters on Tinder, a blunder he has never quite lived down. Even Adem Bunkeddeko, who has twice been endorsed by the Times' editorial board, has never had either of his races written about in the newspaper once they were underway in earnest. Similarly, the highly-competitive race to replace Nita Lowey hasn't garnered a single Times story since Chelsea Clinton announced last year she wouldn't run for it. The Times endorsed Mondaire Jones in that primary.
By creating such a vacuum of coverage, the Times inadvertently empowers itself to pick winners in campaigns that voters, overall, know very little about. The Times reader of 1990 would have read multiple stories about the contours of Lowey's district or Bunkeddeko's second primary against Yvette Clarke in Brooklyn. This reader, educated on the basics of the campaigns, would have made an informed choice, balancing news coverage with their own interactions with the various candidates—through direct mail, TV, or canvassing. Today, it is impossible for a Times reader to make an informed choice about any of these campaigns because they've never been educated in the first place. Perhaps they'll take the time to read or watch one of the few outlets—City and State, NY1, The City, Gotham Gazette, Gothamist, the New York Post—that bother to cover local politics anymore. Perhaps they won't. A Democratic primary voter hunting for guidance has no choice but to take the recommendation of the editorial board seriously, since they have so little outside information to gather from. There is no way to quantify the effect of this. The Times will only endorse candidates who've already demonstrated momentum and raised money; you have to clear many hurdles before the Times takes you seriously. Under these circumstances, elevating a winner isn't difficult.
Yet it's inarguable the Times, retreating from the coverage of its city and region, still commands remarkable influence over its political scene. It's a reality that is far from ideal, brought on by fewer options for voters hungry for guidance. The Times is now a national and international paper, concerned with growing readership abroad and attracting digital subscriptions from people in foreign nations. To be an international colossus is to regard the deaths of people like Lew Fidler as mostly irrelevant. Readers in London and Beijing don't know anything about the New York State Senate or New York City Council. They probably don't care to learn.