Discover more from Political Currents by Ross Barkan
This is Ross Barkan's newsletter - original essays on politics, society, and culture
Over 8,000 subscribers
The Professional Left Is Very Lucky Cori Bush Just Won
A leading activist in the age of Black Lives Matter and a Bernie Sanders supporter was snubbed by almost everyone, including Alexandria Ocasio-Cortez.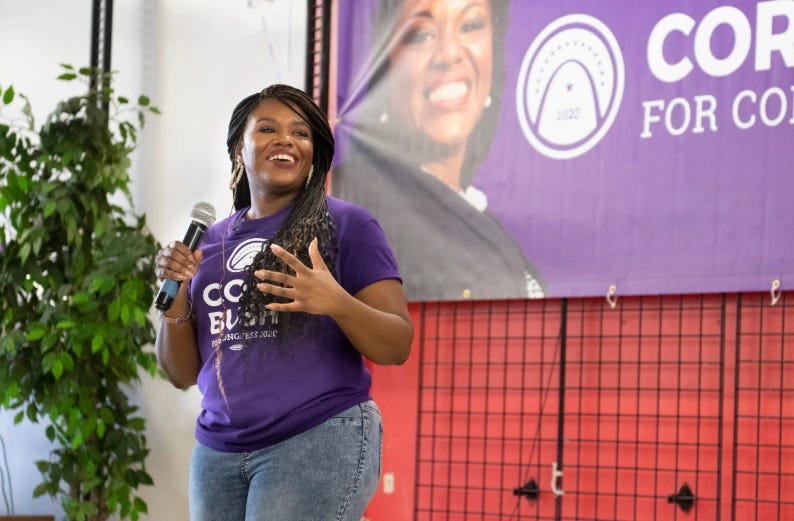 When do the powerful decide to endorse an insurgent candidate? There's a certain alchemy to the process that is frustrating to anyone without a working familiarity of political rituals. Endorsements, no matter where they come from, usually boil down to viability: Will this candidate win? Will my efforts be for naught? The endorser deems a race winnable and, more often than not, there is ideological symmetry that makes the process seamless and ennobles the politician or group bestowing support. The process has a rote rhythm to it. You know what I'm talking about.
Often, the insurgent benefits from this ritual too late in the campaign. My friend Karthik Ganapathy, a progressive political strategist, wrote about this frustration after the candidate he worked for, Charles Booker, narrowly lost to Amy McGrath, a conservative Democrat with a $40 million war chest, in Kentucky's Senate primary last month. Booker, a state lawmaker, was a dream candidate for the left: a pro-Medicare for All, pro-Green New Deal, pro-UBI Black progressive in Kentucky. Ganapathy lamented that institutional progressives waited far too long to endorse Booker, only moving in after it was clear he had demonstrated "momentum." Alexandria Ocasio-Cortez, Bernie Sanders, and Elizabeth Warren all backed Booker, and national progressive groups like MoveOn, Indivisible, and the Progressive Change Campaign Committee eventually followed. But McGrath, with the early support of Chuck Schumer and the Senate Democrats' national campaign arm, blanketed the airwaves with television ads far before Booker in a state where many were voting by mail. The biggest pro-Booker expenditure, Ganapathy lamented, came five days before the election. Had the progressive cavalry arrived in April or May, it's possible Booker is the candidate facing down Mitch McConnell right now. Instead, because it wasn't clear to national outsiders that Booker was a contender, they waited on the sidelines as McGrath blitzed the state.
"The truth is: All of these races look unwinnable until they're not," Ganapathy wrote. "But isn't that what movement organizations are here to do—take on the worthy fights, and turn the improbable into the possible?"
Last night, the institutional left—the aforementioned organizations and brand-name elected officials—barely avoided a repeat of the Booker failure. The narrative of Cori Bush's stunning upset in Missouri won't include a few inconvenient facts: that Bush, who rose to prominence as an organizer during the Ferguson protests in 2014, unseated a longtime incumbent, Lacy Clay, without the help of Ocasio-Cortez, Elizabeth Warren, MoveOn, PCCC, Indivisible, the Working Families Party, or any of the national progressive institutions who have helped fuel other insurgencies that seemed, to outsiders, much more winnable. Bush's only well-known backers, beyond her district, were Bernie Sanders and the Sunrise Movement, which also helped Booker early in his race, and Justice Democrats, the young organization that helps launch left-wing challengers from the ground up. Sanders, along with the organization started by his campaign, Our Revolution, helped Bush because she was a longtime supporter of his presidential campaigns. Bush, in her victory remarks, was very thankful for Sanders' endorsement. The Democratic Socialists of America endorsed Bush as well.
Snubbing Bush wasn't particularly defensible. After her own remarkable upset in 2018, Ocasio-Cortez endorsed Bush as she challenged Clay for the first time and lost decisively. Both Bush and Ocasio-Cortez were featured in the well-regarded documentary Knock Down the House. But Ocasio-Cortez was merely the Democratic nominee for her district then, not a sitting member of Congress. Once in office, she has managed to stay true to her leftist convictions while taking on a far more cautious posture than her radical reputation would suggest, growing more frugal in her endorsements and distancing herself, publicly at least, from DSA. (Ocasio-Cortez doesn't fundraise for DSA and rarely, if ever, references the organization on social media, though they enthusiastically endorsed both of her congressional campaigns.) In part, it appears Ocasio-Cortez didn't move against Clay, a member of the more moderate Congressional Black Caucus, because he endorsed Medicare for All and the Green New Deal, the resolution to combat climate change that has become her hallmark. Clay had held his St. Louis area seat since 2001, taking over from his father, Bill, who represented the district as far back as 1969. He was, in every sense, an institution.
If Bush, a pastor and nurse, and Clay were in agreement on domestic policy, they differed greatly on foreign affairs—and this became one of the most ugly aspects of the race. In a last ditch effort to sink Bush with Jewish voters, Clay sent a mailer attacking Bush for her support of BDS and Palestinian rights, using an image of the prominent Palestinian and Muslim activist, Linda Sarsour. "Cori Bush has an anti-Israel agenda," the mailer declared, pairing the language with a huge photo of Bush and Sarsour together. Sarsour, who wears a hijab, has long been a target of Islamophobia and it doesn't take much imagination to understand what Clay was up to here. In the mailer, he boasts about the military aid he has voted to authorize for Israel and his vote, in the House, to condemn BDS. Bush, meanwhile, spoke openly about dismantling the military-industrial complex in her campaign and advancing a far more progressive and humanitarian foreign policy worldview. As more of these Democratic primaries occur between self-professed progressives, it will be increasingly important to pay attention to what these candidates have to say about the rest of the world. Congress has a serious role to play here; it can be argued, in fact, a candidate's foreign policy platform is more important than whatever they hope to achieve domestically, since so many of the laws and funding decisions that impact Americans are set by state and municipal governments. As a New Yorker, I am reminded of this daily as Governor Andrew Cuomo lords over the affairs of the state and members of Congress, like Ocasio-Cortez, are left to pen impotent letters to the governor's office, beseeching him to raise a tax or cancel rent.
Given such a remarkable gulf between Clay and Bush on foreign policy, and Bush's own bona fides as a leader in the Black Lives Matter movement, the choice by many prominent progressives to stand aside as Bush battled in her second primary is all the more perplexing. It's possible that most of them, beyond Sanders and the victorious Jamaal Bowman, are skittish about trying to unseat members of the CBC, who have invoked their Civil Rights era legacy in a disingenuous effort to quash progressive primary challenges. It's probable Clay's embrace of Ocasio-Cortez's domestic agenda was enough to win neutrality. It's likely none of them care quite as much about what happens overseas, even though this is where Congress can exercise the most sway. How do Ocasio-Cortez and these left organizations expect to build a mass movement if they fail to help the candidates who so clearly embody their values? Bush was not a charlatan nor a long-shot; she was in her second primary, running on a clear record of racial justice activism, willing to take on risky positions that invite backlash from very wealthy and powerful people.
Bush very well could have suffered the fate of Charles Booker, Jessica Cisneros, Tiffany Cabán, and other leftist underdogs who came so painfully close to victory. That Bush won despite the unwillingness of the institutional left to help her does not change what is readily apparent: the future Cori Bushes will need to scrap for the kind of help they should be entitled to. The left's posture will need to change for more working class candidates to reach Congress, a problem I wrote about in early 2019, just as Ocasio-Cortez was sworn in. If prominent organizations and elected officials continue to take a cautious, wait-and-see approach to endorsing, worthy lower income candidates will never be able to raise the money or attract the expertise required to challenge entrenched incumbents. Those with preexisting wealth or connections will, in turn, marshal the "momentum" needed to demonstrate that they are the rising stars deserving of national backing. The alchemy of endorsing will need to change. Otherwise the Democratic Party won't.