Discover more from Political Currents by Ross Barkan
This is Ross Barkan's newsletter - original essays on politics, society, and culture
Over 8,000 subscribers
The Strange, Outdated Spectacle of a Democratic Convention
Maybe they should all be virtual?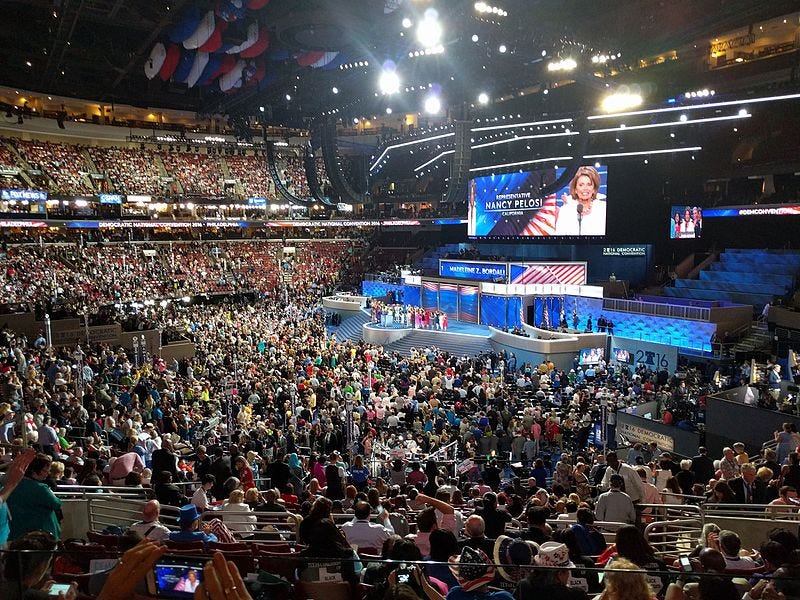 More than four years ago, I attended my first and only Democratic National Convention. Traveling there for the Village Voice, I went with a journalist friend, Michael Harris, to see firsthand what it would look like for Democrats to nominate Hillary Clinton to run against Donald Trump. As a reporting exercise and spectacle, it could be a strange and oddly thrilling experience. I marched several miles in absurd humidity with the furious Bernie supporters, watched celebrities make bad Trump jokes, and tried to snag the A-list and B-list and C-list pols floating like bored, confused moths through the delegation hotel. I woke early to devour eggs at my hotel's buffet, shivered in the Wells Fargo Center's air-conditioning each evening, and went to bed past midnight. I hovered in media tents, swiped swag, and tried to write something, occasionally, that was original.
Of course, the convention is now virtual, due to the COVID-19 pandemic. Democrats were right to do this from an epidemiological perspective; crowds from all over the country would have probably triggered new outbreaks in Milwaukee. There have been quiet laments for what might have been, in a world without coronavirus. Joe Biden and Kamala Harris could have met their adoring delegate crowds. Bruce Springsteen could have blown the minds of Baby Boomers anew. All of this, maybe, would have manufactured a convention "bounce" for the Democratic ticket, and given us all something to talk about for one or two or even three days. Attending a national convention, you must fight off an uncomfortable truth: most of it has no purpose beyond existing as fodder for cable television, a meta-event that lives, like reality TV, for the rationale of filling otherwise vacant blocks of broadcast time. Until the 1970s, before the advent of modern presidential primaries, conventions existed to explicitly nominate major party candidates. Party power brokers huddled to decide who should top the ticket. Actual voters had little say. Few states held primaries and caucuses, and even those that did could be ignored by party leaders altogether. The conventions, therefore, were fraught with actual drama and intrigue, the ceremony tacked on for the pleasure of the assembled delegates.
The open primary era, inaugurated with the surprise Democratic nominations of George McGovern and Jimmy Carter, introduced genuine democracy to presidential contests. It also produced Donald Trump, who would have been blocked on the convention floor in another time, his political career dead before it began because party machers in South Carolina and Alabama and Wisconsin decided he was too uncouth and unserious to lead. Despite this, we shouldn't pine for the pre-primary era, which made popular insurgencies and anti-establishment campaigns far more difficult to mount. Conventions should be ceremonial, occurring merely to cement the will of millions of Americans who voted in the winter and spring. We don't need a convention week. One night, for the delegates to meet and nominate their candidate, would be enough. But that wouldn't make good TV.
A paradox operates at the center of Democratic Party politics. The establishment—the elected officials, wealthy donors, party chairs, labor leaders, and various political operatives—has never been weaker, unable to cut off funding from insurgent candidates or limit their popularity. Bernie Sanders, a self-described democratic socialist, ran two national campaigns and won millions of votes. Two of the highest-ranking Democrats in the House, Joe Crowley and Eliot Engel, were easily toppled by much younger leftists. Alternative left media, from Jacobin to Hill TV's "Rising," are growing in popularity, and the Democratic Socialists of America boast more than 70,000 members. At the same time, on the scale of presidential politics, the establishment continues to win. Leftists who downplay Joe Biden's victory do so at their own peril. In the primary season, Biden was a doddering candidate and lackluster fundraiser who never built an effective get-out-the-vote operation. Party elites were so panicked by his apparent struggles that they almost sold out to an even more flawed candidate, the oligarch Michael Bloomberg. On Super Tuesday, on what many commentators believed would be Sanders' ultimate day to dominate, Biden won commanding victories across America, even winning states he hardly campaigned in, like Massachusetts. In part, these victories came as the Democratic field rapidly consolidated and the high profile candidates who had dropped out—Pete Buttigieg, Amy Klobuchar, and Beto O'Rourke—all endorsed Biden. This establishment, anti-left front, which shared a collective opposition to Medicare for All, was enough to beat back Sanders, leaving him with a lower delegate count than what he had won against Hillary Clinton four years ago.
There wasn't any conspiracy here. The Democratic National Committee isn't powerful enough to engineer a presidential primary, no matter how hard they may try. A consolidation of candidates isn't a new tactic and it's one Sanders should have been prepared for. Unlike the Republicans in 2016, Democrats have an elder statesman in Barack Obama who can influence candidates and move votes. Biden owes his victory entirely to Obama choosing him as his vice president in 2008. Before then, he was a twice-failed presidential candidate with an expiring political career. Biden's popularity, particularly with African-American voters, derived from his ties to Obama. Prestige media and cable TV didn't lavish attention on Biden but they were hostile to Sanders, and this was yet another obstacle a 78-year-old socialist could not overcome. Couple Biden's tenure as vice president with the general anti-Sanders tilt of liberal cable TV, and you have the makings of a front-runner who would always be difficult to topple. Older voters, for a variety of reasons, disliked Sanders, and this sealed his fate in 2016 and 2020. Whites and African-Americans over the age of 50 wanted nothing to do with him, perhaps fearing he was a less dependable bet against Trump. Sanders assembled a multiracial coalition, but it was too young. The old always outvote the young. Perhaps when millennials and zoomers age into a reliable voting cohort, socialists will be able to win on a mass scale.
Democratic voters, for reasons that are debatable, appear to have more reverence for establishment politicians and institutions than Republicans—at least for now. A personality cult has been built around Donald Trump, the president of the United States, but his appeal among the frothing base of the party is baked into his status as an interloper and usurper, a proverbial swamp drainer. He exists to set Washington D.C. on fire to save the working man. That's the image, at least. The ultimate bull trampling all china shops everywhere. Since Trump is such a noxious figure, Democrats now crave restoration and order, a return to the normalcy of the Obama years, when the president was not such a slovenly menace. These restoration voters were one bedrock of the 2020 Democratic primary. They are the people applauding John Kasich and Mike Bloomberg for telling Trump, impotently, to go to hell. They are the voters under the MSNBC spell, convinced that every malady known to humankind can be traced to the Orange Menace in the Oval Office. They were enraptured by Russiagate and Ukrainegate; they were sure Robert Mueller was going to chase Trump from office and lock him in prison before the 2018 midterms. They are willing to describe George W. Bush as a nice man who paints. Largely, they are drawn to a different kind of cult, politics as personality, attractive, witty men and women with Ivy League pedigrees gravely guiding domestic and foreign policy from the D.C. citadel, life as an Aaron Sorkin teleplay. They listen to Pod Save America and they love that Pete Buttigieg can speak Norwegian. They shopped around for presidential candidates not named Bernie Sanders. Settling, with a light sigh, they cast votes en masse for Joseph R. Biden Jr. They're starting hope their new hunk, Andrew Cuomo, will run for president someday.
The Democratic Convention, really, is for them. This is their time. This is the political season in which #resistance might be enough, all factions of the Democratic Party united to defeat Trump, the future nothing more than a vague nirvana in which presidential tweets do not make news. In this moment, policy does not matter. Few people can really say what Biden wants to do or explain, with any conviction, why they will vote for him beyond that he is not named Donald John Trump. But, barring yet more horrific turns from COVID-19 or a catastrophic failure of the Post Office (all possible), they will be voting in November. Hatred can be as motivating as love.