Discover more from Political Currents by Ross Barkan
This is Ross Barkan's newsletter - original essays on politics, society, and culture
Over 8,000 subscribers
What Type of Mayor Do New Yorkers Want?
On the New York Times and the budding contest for 2021.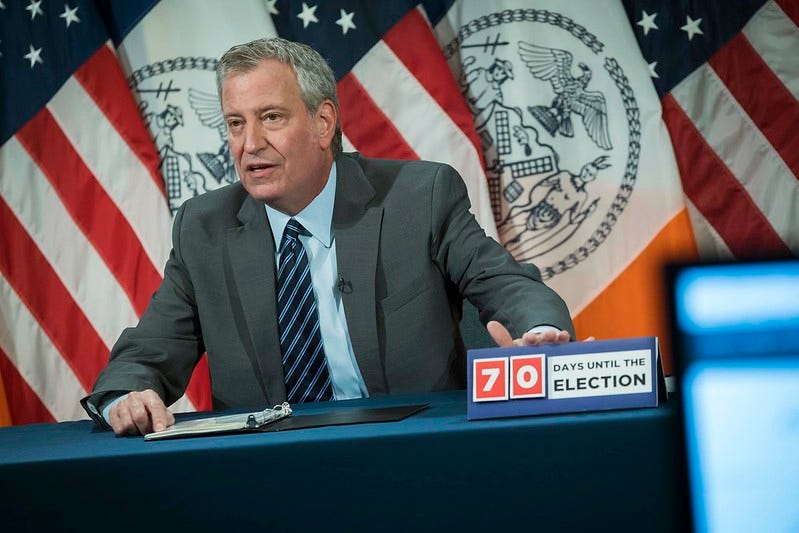 One dirty secret of modern journalism is that Twitter, a medium favored by a small selection of the American populace, has become the place where newspaper stories can take root. Many journalists are keyed in throughout the day and night, their minds melding to a discourse that fluctuates, regularly, between snark and outrage, usually with a liberal bias. I am as guilty of this as anyone. Inevitably, I end up spending too much time there, musing over the feed, considering how and when I should inject an opinion into the discourse that will be gobbled up free of charge, as all tweets uselessly are. Sometimes, Twitter becomes an inspiration—or I learn enough from a digital lashing that I should probably explain myself long-form, right here, with many more words to sand off the hardest edges of social media.
On Tuesday, in a series of tweets, I offered criticisms of a New York Times story on the 2021 mayoral race. The story asks a crucial question: Do New York City voters want another white mayor? Written by the Times' Jeff Mays, who is an excellent City Hall reporter, the story works from a narrative that is understandable enough and may well prove true over time: the protests against police brutality in the late spring, triggered by the killing of George Floyd in Minneapolis, will empower candidates of color in the Democratic primary against two of the white front-runners, City Comptroller Scott Stringer and City Council Speaker Corey Johnson. Mays writes too that the outcomes of the state legislative and congressional primaries in June, in which prominent nonwhite progressives like Jamaal Bowman triumphed, are evidence of a Democratic primary shift away from white candidates. "There's always going to be a real concern and a legitimate concern over whether a white elected official with white privilege can ever fully understand the experience of people of color in the city," Johnson told the Times in an interview.
In a majority minority city, with a Democratic electorate influenced by African-American and Afro-Caribbean voters in Brooklyn and Queens, candidates of color have always entered mayoral primaries with advantages, particularly as the power of white ethnic outer borough voters diminishes with each election cycle. The citywide Democratic electorate is quite diverse, with Black, Latinos, Asians, Orthodox Jews, and liberal whites all exercising clout in a primary. It's very possible, as Mays writes, that the Black Lives Matter protests and the success of certain nonwhite candidates in individual state legislative and congressional races augers the defeats of both Johnson and Stringer. Maya Wiley, a Black woman who is a prominent civil rights lawyer and former legal counsel to Mayor Bill de Blasio, is one possible beneficiary of this calculus, certainly in the view of the Times. Wiley's Twitter following is sizable. Mays notes that one tweet of Johnson's condemning the arrest of a Black Lives Matter leader had ten times fewer retweets than a similar tweet sent by Wiley.
An issue arises when a newspaper tries to determine what a diverse community—culturally and geographically—will want out of a mayoral candidate. Afro-Caribbeans in Bedford-Stuyvesant and African-Americans in Brownsville and Jamaica are not a monolith. In 2013, the overall Black vote was somewhat split between an African-American candidate, Bill Thompson, and de Blasio, who was propelled to victory in parts of Central Brooklyn with the aid of his biracial family. Even now, though you wouldn't know it from press coverage, de Blasio retains significant and consistent support from Black voters in polls. Generally, I am skeptical of narratives, framed through the lens of horse race political coverage, that are easily resolvable come Election Day. We will know, in less than a year, whether Democratic voters want another white mayor. But if we are seeking to answer this question, we can begin with talking to ordinary Black voters across the five boroughs. None are quoted in the Times story. Even a small cross-section, however, would amount to little more than guesswork, without a statistically significant, randomized sample taken of the Black Democratic electorate. Few newspapers have the real resources to do this—venture into the field to interview hundreds or thousands of voters—and the Times, fortunately, is one of those few. Better for the newspaper to commission a local poll in the wake of the George Floyd protests and pair it with on-the-ground reporting than hazard a guess, based on the opinions of a few people attached to the political class, of what is really happening out there.
Johnson's concession of his white privilege to the Times, coupled with an omission of his own background and identity, was notable. It did not seem to matter that Johnson, in addition to self-identifying as white, is openly gay and HIV positive. He also happens to be a quarter Korean. Unlike the other candidates in the race, he grew up in public housing and never graduated from college. None of these facts were presented because they didn't fit into the story, which was about how white mayoral candidates may be losing step in the current moment. Johnson is, undeniably, white, and he is a politician who has faced sharp criticism from the left for failing to cut the NYPD's budget significantly in June. Some have speculated he may not run for mayor at all. I found it strange, though, that the story about the mayoral race couldn't find a paragraph for Johnson's biographical background, a complicating factor in the narrative that he is merely a privileged white male seeking office in a majority minority city. Though it is hard to imagine today, with same-sex marriage legalized and overt discrimination against the gay community on the decline, New York City's media and political establishments were horrendously homophobic a few decades ago. Thirty-five years ago, it would have been inconceivable in the city, ground zero for the AIDS epidemic and with an anti-gay mayor in Ed Koch holding office, that an HIV positive man could seek the mayoralty and be conceived as a person of privilege. Mainstream newspapers like the Times or Daily News would often sneer at the movement for gay rights and express bewilderment at the loud, uncompromising calls for leaders to address the AIDS epidemic. Until 1973, the American Psychiatric Association regarded homosexuality, unequivocally, as a mental disorder.
I do believe, even in a story about race, that sexual orientation can't be left on the cutting room floor, especially when there has been such a history of discrimination against those who aren't heterosexual. My other critique, which drew ire on social media, regarded how race was written about without any attempt to reckon with class. This isn't unique to this news story or the Times, but it does stick out at a newspaper that is the most powerful in America, with almost half of its staff hailing from elite universities. Johnson's lack of a college degree and his upbringing in public housing makes him, by birth, a member of the country's vast lower class, composed of people of all races who don't attain more than a high school degree and experience childhoods of precarity. As I've written before, the Times' renewed push for increased racial diversity will be relatively meaningless if it does not attempt to reckon with the reality that many of its reporters, including those of color, graduated from elite universities, well-regarded public or private high schools, and enjoyed lives of significant privilege from birth. A serious commitment to diversity would mean the Times begins recruiting young reporters from CUNY's and state schools, community colleges, and those who only hold high school degrees. Until this happens, the perspective of the Times, writ large, will continued to be informed by the privileged class positions of its reporters and editors. Johnson, depending on your view, may not deserve to be mayor at all, but a mayor who grew up in public housing and never earned a college degree would be historic. That reality, however, doesn't fit neatly into a Times story about race and white privilege. Some have pushed back on this idea, contending that Johnson, as a white man, could only get so far in politics without a college degree because he is white. Wiley, for example, could not be a viable contender without degrees from Columbia and Dartmouth. This is true, to an extent, though there is a real-world counterexample: Ritchie Torres, a 32-year-old Afro-Latino who dropped out of NYU, is about to become a congressman, and will be a serious mayoral contender whenever he decides to run.
The collision of race and class is one of the thorniest topics that a person can debate these days, especially online, with the ascent of a new protest movement against police brutality and racism, Donald Trump's bigotry, and a persistent class inequality that has worsened over 40 years. There should not be a collision between race and class; both matter greatly to the every day reality of an individual. Both unite and both divide. Skin color cannot be altered; the wealthiest and most educated Black person can still be racially profiled. If a white person escapes rural poverty and walks down a city street, a police officer is still less likely to view him with suspicion. At the same juncture, note the conditional—if. Certain factions of the left, particularly those that live in urban areas and had the right kind of education, aren't interested in seeking radical solutions to the intractable class inequality that makes life increasingly hopeless for many Americans in cities and outer rim towns alike. Sloganeering will not be enough to fix it. The underclasses of all races have much in common: a lack of access to sound healthcare, housing, and education, and the pessimism that is endemic to such an existence. Child poverty is life-defining. For all those who are able to bootstrap out of it, like Corey Johnson, there are a tragic number who cannot, who succumb to drugs or alcohol or violence. All of this makes murky discussions of privilege, particularly in politics. It does not fit neatly into a single newspaper article.