Discover more from Political Currents by Ross Barkan
This is Ross Barkan's newsletter - original essays on politics, society, and culture
Over 8,000 subscribers
Why Does the Media Take the Onus Off Cuomo?
Andrew Cuomo is a master at avoiding blame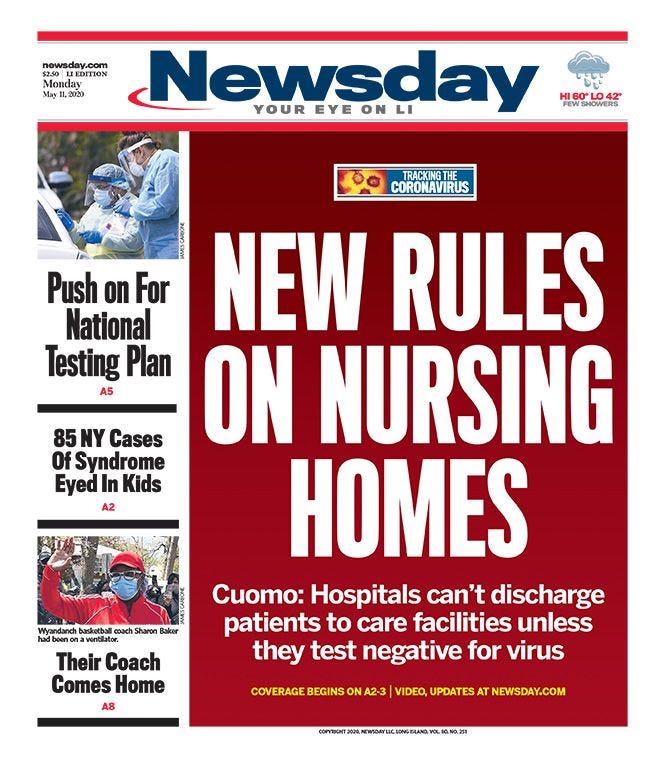 All successful politicians know how to take credit for their successes and dodge blame for their failures. Those that don't muddle along until they lose an election or slink into obscurity.
Governor Andrew Cuomo isn't going anywhere. State elected officials don't have term limits. Those who assume he will run for president one day don't quite understand what makes Cuomo tick. If he can't be guaranteed the presidency, he's not going to waste his time in Iowa and New Hampshire. A failed presidential run would only weaken his hand back home. Right now, Cuomo commands the third largest budget in America, only behind what the State of California and the United States itself spends annually. With this budget comes the sort of power we can't quite fathom—the ability to replenish or decimate school budgets, determine the fate of one of the world's largest transit systems, or watch a bridge with your family's name rise across a famous river.
When there is success, no one takes more credit than Cuomo. He walks bridges. He roams subway tunnels. He declares, without irony, "I am the government."
When there is failure, Cuomo disappears. He hides behind the opaque structure of state government, which allows agencies and authorities he controls to take the fall. Cuomo appoints the chair of the Metropolitan Transportation Authority—the state agency that controls New York City's subways—and a plurality of their board members. He often tells the MTA chair, quite directly, what to do. He once, unilaterally, closed down the entire subway system over the threat of a snowstorm. But when the subway system began to fail in 2017, leading to daily delays and breakdowns, Cuomo pretended he no longer had any serious authority over the subways. "I have representation on the board," Cuomo said. "The City of New York has representation on the board, so does Nassau, Suffolk, Dutchess, Putnam, Rockland, other counties, okay?" His appointed MTA chairman, Joe Lhota, once claimed against all available evidence that funding the subway system was New York City's problem.
Though transit experts and people who follow politics more closely were able to thoroughly debunk Cuomo, he won in the end because the media mostly embraced his narrative. Years later, with the subway wars of 2017 in the rearview mirror, the New York Times could proclaim in a subhead that Cuomo "waded into a struggle between New York City and the state agency that runs the city's transit system over the issue of homeless people sleeping on subway trains." The framing in the 2020 Times story is absurd. If Cuomo is governor and he controls the MTA, how could he wade into a struggle "between" New York City and his own state agency? It's the equivalent of writing, in a hypothetical scenario in which a public school was clashing with locals in Brooklyn, that Mayor Bill de Blasio waded into a struggle between the NYC Department of Education and Park Slope. De Blasio appoints the DOE chancellor, sets policy, and his city government funds the schools. Cuomo can't come between the MTA and New York City because the MTA is his agency. If New York City government has a policy disagreement with the MTA, it has a policy disagreement with Cuomo. He tells the MTA chair what to do.
The COVID-19 pandemic has provided new opportunities for Cuomo to take credit and skirt blame. At the top of this post, I purposely included the front page of Newsday after Cuomo announced he was changing a disastrous policy he himself had created to force nursing homes to readmit patients who tested positive for COVID-19. More than 5,000 people have died in New York nursing homes across the state. Cuomo's Department of Health oversees nursing homes. For weeks, nursing home operators begged the state for more PPE and warned about the danger of readmitting sick residents into such a precarious environment. Rather than transfer nursing home residents to unused, makeshift hospital facilities that had sprung up across New York, Cuomo's DOH forced patients back to their nursing homes to infect others. On May 10, in a concession that his own policy was wrong, Cuomo announced a reversal: residents could only go back to their facilities if they tested negative for coronavirus.
The most honest framing of this story would emphasize Cuomo created this policy, it was a disaster, and he had reversed course. With less popular and canny politicians (see de Blasio, Bill), this happens all the time. But look again at that Newsday front page: "NEW RULES ON NURSING HOMES. Cuomo: Hospitals Can't Discharge Patients to Care Facilities Unless They Test Negative for Virus."
What's missing here? Cuomo's role in the catastrophe.
The Newsday headline creates the impression that nursing homes and/or hospitals created a dubious policy that Cuomo has now reversed. It's entirely unclear who enforced the old rules. The reader is left to wonder if hospitals or nursing homes did. The second sentence in the headline implies, wrongly, hospitals were willingly dispatching nursing home residents who tested positive for coronavirus back to their nursing homes. Hospitals were being compelled to send them and nursing homes were ordered to take them. Who did the compelling and the ordering? Andrew Cuomo, the governor of New York, who controls the Department of Health.
The greater question—one I've grappled with, with no single satisfying answer—is why this happens so often. Why does Cuomo get his way, generally speaking, in New York's newspapers? There are exceptions, of course. Both tabloids, the Times, and the Wall Street Journal have written harshly of Cuomo. Yet they will defer to his own narrative, or take the onus off him in times of controversy. Cuomo has been adept at developing relationships with editorial boards and has been known to speak with reporters personally, off the record. His press office plays a carrot-and-stick game with beat reporters, doling out tips and yelling about supposed slights, often with curse words sprinkled in. Cuomo himself engenders respect from journalists: he's a tough-guy, he doesn't come off as feckless, and his machismo can mask incompetence. Bill de Blasio, to your average reporter, is a whiney string bean. Cuomo fixes cars, he flexes muscle, and he gets things done.
Or so he wants you to think.
---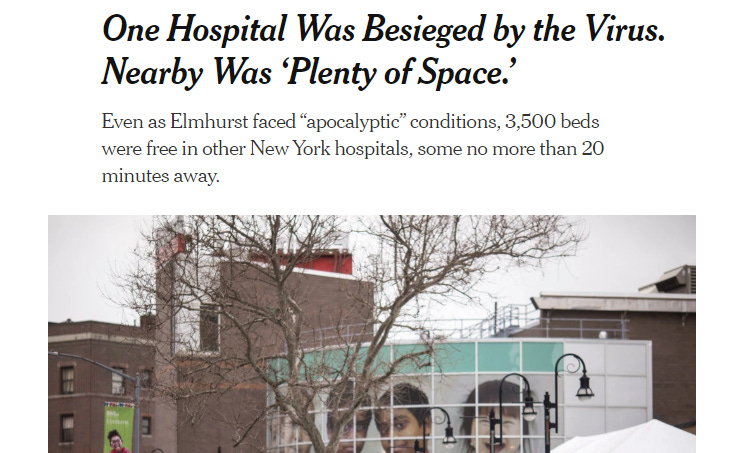 Last week, Jim Dwyer, a Pulitzer Prize-winning reporter and columnist for the New York Times, wrote a fascinating column about the struggles of Elmhurst Hospital, once the most besieged hospital during the coronavirus outbreak. Elmhurst, in Queens, was overwhelmed with patients and couldn't save many of them. So many died that refrigerated trucks were parked outside to hold corpses.
"At Elmhurst Hospital in Queens, hundreds of Covid-19 patients arrived in need of more help than besieged medical workers could give. Patients were found dead in rooms. One medical resident described conditions as 'apocalyptic,'" Dwyer wrote. "Yet at the same time, 3,500 beds were free in other New York hospitals, some no more than 20 minutes from Elmhurst, according to state records. The city, which runs Elmhurst, had a fleet of 26 new ambulances available to transfer patients."
Dwyer's argument is clear: Elmhurst and other hospitals failed to coordinate with each other, leading to disaster. This is objectively true. As Dwyer pointed out, hospital organizations have existed as relative fiefdoms, rarely interacting with one another. "No single body existed to match patients with the beds that were already available across scores of separate systems and independent hospitals."
The narrative, though, includes another crucial element: none of this is Andrew Cuomo's fault and it was only his intervention that prevented further disaster.
"Within days, the state created one in the form of an early warning system, a live daily map of conditions at each hospital, regardless of who operated it," Dwyer continues. "The dashboard hacked together by Mr. Cuomo's aides did not create a permanently integrated health system by any measure, but it allowed New York at the worst of the pandemic to make the most — or, at least, more — of what the state had."
Dwyer then quotes two Cuomo aides on the record: Dani Lever, his communications director, and Gareth Rhodes, another top aide. This is notable because Cuomo aides don't always appear on the record, particularly in stories in which Cuomo is portrayed unfavorably. In a ProPublica investigation into Cuomo's tragically slow COVID-19 response, an aide defends Cuomo while refusing to speak on the record.
Here, Rhodes and Lever speak unimpeded.
"It wasn't the problem that every hospital was full," Rhodes says. "It was a problem that a handful of hospitals were nearing capacity, while hospitals within a 15- mile-to-20 mile radius had plenty of space."
"The issue at Elmhurst was not one of capacity," says Lever, the governor's communication director, noting that there were thousands of free beds in the city, including within Health & Hospitals' own network. "It was a patient management issue."
None of this is necessarily wrong. But its intention is clear to those who have followed healthcare issues closely in New York. Lever and Rhodes, through Dwyer, want you to believe Cuomo's decision to embrace hospital closures over his more than nine years as governor was not the reason people died in New York City. It was not the reason there was a crisis at all, the Cuomo aides tell Dwyer, their statements going unquestioned.
A brief recap: starting with Republican Governor George Pataki in the 2000s, New York State closed many hospitals to save money. Hospitals are expensive to operate and aren't filled to capacity unless there are rare disasters, like pandemics. But they are a lifeline for low-income communities with few other healthcare options. The head of Pataki's hospital closure commission, an investment banker named Stephen Berger, is close to Cuomo, and served on Cuomo's first Medicaid-cutting task force. Cuomo and Pataki have been at odds, but not on matters of healthcare. Both believe, fundamentally, closing hospitals was the right thing to do.
Queens, a ground zero for coronavirus, lost four hospitals in the last 15 years: Parkway in Forest Hills, St. John's in Elmhurst, Mary Immaculate in Jamaica, and Peninsula Hospital in Far Rockaway, which shuttered in 2012 with Cuomo's approval. We will never know how many lives could have been saved with four additional hospitals in a borough that has seen nearly 6,000 die from coronavirus. What we do know, and goes unmentioned in Dwyer's column and from Cuomo aides, is that while there were certain hospitals with vacant beds, the real issue was intensive care unit capacity. New York City was hitting its ICU limit as early as March. New York City's ICU capacity is among the worst in the country, ranking behind cities like Chicago, Detroit, Fort Lauderdale, New Orleans, and Baltimore. To save lives, hospitals like Elmhurst strained, in a short amount of time, to triple their ICU capacity. Would New York City have been better off with four additional Queens hospitals with more ICU beds? This is likely. Could these four hospitals have saved some amount of life? Again, likely.
Dwyer ultimately lets Cuomo off the hook because the failure of New York's byzantine hospital system is never laid at his feet. Instead, Cuomo is credited for acting quickly to stave off further suffering in a system he never fixed in the first place, despite governing the state for nearly a decade. This isn't the first disaster to befall New York City. After Hurricane Sandy in 2012, why didn't Cuomo try to better coordinate the city's public and private hospitals? Why did he allow the fiefdoms, some of them quite wealthy and politically-connected, to continue as they were until it was too late? Cuomo has scoffed at creating a single-payer healthcare system in New York State but such an approach could give the public great leverage over private providers, allowing the state government to regulate hospitals in whatever way they prefer. Or, more simply, the Department of Health could have set up a central database to track hospital patients and beds in real-time. This is within the realm of possibility. Amazon does it for packages. Dwyer should have asked Cuomo's aides why the governor never thought to do this before.
Cuomo, ultimately, seemed pleased with Dwyer's column. We know this because he said so himself.
"Jim Dwyer's got a piece today," Cuomo told WAMC's Alan Chartock last week. "By that analysis, we're going to do very, very well … We did the impossible."