Discover more from Political Currents by Ross Barkan
This is Ross Barkan's newsletter - original essays on politics, society, and culture
Over 8,000 subscribers
Will Eric Adams Apologize?
Nearly a year after he told New York residents to go "back to Iowa," the pandemic has made his rant all the more absurd.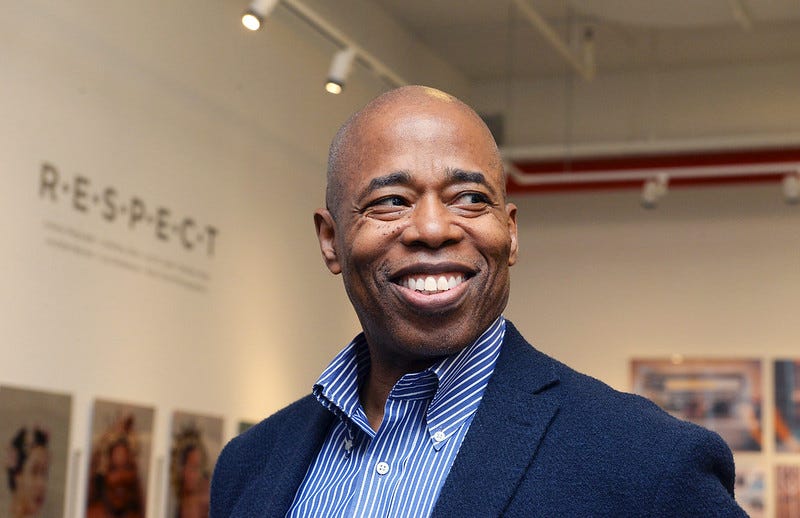 Eric Adams had no trouble standing out when he took the stage at the National Action Network's Martin Luther King Day celebration in January. The two-term Brooklyn borough president, Adams is one of the leading candidates for mayor. Reporters were paying attention, hoping for news. A Democrat with a history of making controversial statements, Adams did not disappoint.
"You were here before Starbucks. You were here before others came and decided they want to be part of this city," Adams told the crowd. "Folks are not only hijacking your apartments and displacing your living arrangements—they displaced your conversations and said the things that are important to you are no longer important and they decide what's important and what's not important."
"Go back to Iowa," Adams thundered. "You go back to Ohio. New York City belongs to the people that were here and made New York City what it is and I know I'm a New Yorker. I protected this city. I have a right to put my voice in how this city should run."
Adams, a former police captain, drew mild rebukes. Mayor Bill de Blasio, an ally of the borough president, said on NY1 that "it's not my impression he said it the right way—the fact is it's a city for everyone." Later, Adams penned an op-ed in the Daily News clarifying his remarks, explaining that "we don't vilify people based on where they come from, we seek to build bridges between communities and celebrate what unites us." But, for the most part, the headlines came and went. Adams did not apologize. A Black man speaking to a Black Harlem audience, Adams had made himself clear: new residents, particularly whites from the Midwest, were usurping traditionally Black neighborhoods, imposing their culture and driving rapid increases in rent.
This has been the convenient narrative of gentrification in New York—and one politicians have been content to hammer home for decades now. Adriano Espaillat, the Dominican-American congressman representing upper Manhattan and the Bronx, made a similar complaint at the Martin Luther King Day rally. "I think King would have looked at this and taken this on. Affordability and gentrification is ripping our neighborhood apart," Espaillat said. "You see the stress of high rent. Now you got Starbucks, and bike lanes, and sushi. Where is my rice and beans?" All three of these things—riding a bike, eating sushi, and going to Starbucks—are stereotypical staples of elite, cosmopolitan culture, Espaillat implied. He did not want to be mistaken or misheard: the traditional culture of working class Blacks and Latinos is dying out. The culprit may be high rent (Espaillat cites this directly) but the real anger is over a loss of what makes New York, for many, essentially New York.
Adams, as he tends to do, raised the stakes. It is not enough to merely lament. One must take action. And the action is to demand expulsion, quite literally: "You go back to Ohio." It is a populist cry and one, as a third-generation Brooklynite, I can almost understand. We natives believe we know best. We have the subway map memorized and the inarguable currency of childhood memories spent on the shores of Coney Island, not Lake Erie. We grew up playing basketball and handball in the park, screaming at the television over the Yankees or Mets, and going to school with kids who spoke different languages at home—or maybe we were one of those kids ourselves. We remember the smoke in the sky on 9/11. If we were old enough, we had birthday parties at Fun Time U.S.A. or Lazer Park. There is an entire genre of literature dedicated to the New York that once was and will never be again—typically, the New York of our lost youth.
This is New York nativism. It is not so vile like the brand we see practiced nationally, which seeks to exclude immigrants and those who have fled oppression seeking a better life here. It is not racism. But it is ignorant. Politicians like Adams seek easy scapegoats in cultural signifiers many of us roll our eyes at—I avoid Starbucks whenever possible—while avoiding hard structural truths. While the word "systemic" has gained new cachet among political liberals and educated elites, bandied about so often it is just about deprived of all meaning, relatively few Democrats in office are willing to consider real estate systemically. In the cries of Adams and Espaillat, one can almost imagine saving working class New York is as easy as opening a few more Mexican restaurants and independently-operated coffee shops. Perhaps it's as easy as expelling people who moved here from other states to go to school, seek work, or chase a dream.
The second point is worth addressing on its own, especially in the context of the catastrophic COVID-19 pandemic. We will get there shortly. But first, and more crucially, there is the question of rent. Every politician—liberal, moderate, leftist, even conservative—has long lamented New York's escalating cost of living. The 2010s, which began with Michael Bloomberg's third term, were a new Gilded Age for New York, with skyrocketing rents and yawning income inequality. It was the decade of New York as a "luxury product," with soaring glass box condos invading the skylines of Brooklyn, Queens, and Manhattan. Hudson Yards, a tax-subsidized playground for the ultrawealthy and various corporate brands, finally opened, embodying this era of shortsighted excess. Now mostly vacant and costing the city obscene amounts of money, it will stand as a testament to neoliberal economic development at its most ludicrous. Beyond the far West Side of Manhattan, pressure on rent seemed to exist virtually everywhere. Neighborhoods like Bushwick and Long Island City and Sunnyside and Inwood, once largely working class enclaves, became hubs for the upper middle class and the wealthy. Each year, rents steadily rose. The median city rent increased 35 percent between 2010 and 2020, with certain neighborhoods seeing far higher spikes. This 35 percent increase came on top of the gentrification already occurring in the 2000s, as the city's population grew and the economy rebounded from 9/11. For much of the 2010s, New York was particularly attractive to foreign investors, increasing rents and the purchase prices of apartments.
Gentrification, at its core, is about class. The cultural and aesthetic outcomes are symptoms, not causes. Artists seeking working or living spaces have long been derided as harbingers of gentrification, but this is a simplistic and ultimately useless view to hold. Poor artists are not real estate developers or landlords. And while the Starbucks or the CVS pharmacy may be grating, their homogeny wearing on the senses, their existence alone does not mean commercial and residential rents automatically spike. For most of the 20th century, New York was a flawed but relatively affordable city if you held a job of some kind. Few neighborhoods were, from a perspective of income—race is another matter—off limits. A teacher or painter or mechanic or janitor could live, easily enough, on the Lower East Side or the Upper West Side or in Hell's Kitchen. Park Slope was a blue collar hub, as was Williamsburg. As my father always reminds me, there was a time when you counted the expensive neighborhoods of the city on one hand. Now, you do the same for those that won't charge you at least $2,000 a month for an apartment.
Why? Eric Adams, who is a landlord himself, and Adriano Espaillat should have some idea. They may not just want to talk about it. Both were former Democratic state senators who enjoyed cozy relationships with the breakaway conference of senators, known as the Independent Democratic Conference, that helped keep Republicans in the majority for much of the 2010s. Adams' successor in the Senate, Jesse Hamilton, joined the IDC with Adams' full endorsement. Espaillat's successor, with his full-throated backing, joined the IDC too. Espaillat was close enough to the IDC's leader, Jeff Klein, to happily accept donations from the IDC and Klein himself. All of this matters because Republicans could not have controlled the Senate without the IDC, which had as many as eight lawmakers before most of them were defeated in primaries in 2018. The Republican conference, over the course of the decade and long before, had rejected repeated attempts to strengthen tenant and rent laws that could have forestalled the housing displacement that had metastasized last decade—the very displacement that Adams and Espaillat railed against. In 2019, with the IDC defeated and the Republicans chased from power, the Democrat-controlled State Senate overwhelmingly strengthened these housing laws. Most importantly, over the objections of Republicans and quiet resistance from Governor Andrew Cuomo, they ended vacancy decontrol.
There are several causes of gentrification, which is best understood as housing displacement with attendant cultural shifts, some more relevant than others. One major trigger, too often gone unmentioned, was the New York City Council's 1994 vote to institute vacancy decontrol for the city's rent-stabilized housing stock. The state government, where Republicans controlled the State Senate and the Governor's Mansion at the time, rubberstamped the law change. Until 1994, the nearly 900,000 apartments that were rent-stabilized had to remain forever in the program, their rent increases capped annually. For tenants, this meant a certain level of comfort and predictability because the Rent Guidelines Board, which decided how much rent would be raised annually, would usually vote for miniscule increases. The city's median rent in 1994 was below $600 and apartments could be had in neighborhoods like the Lower East Side for around $552 a month. For landlords, the long sought goal has always been the end of all rent regulations in New York City: every apartment on the free market, the rent as high as the wealthiest tenant might pay.
In the 1990s, landlords and real estate developers had grown restless, ready to take advantage of the city's rising economic fortunes. They did. With the help of some liberal Democrats on the City Council and the conservative Democratic speaker at the time, Peter Vallone, the Council voted 28-18 to allow landlords to take apartments out of the rent stabilization system when the rent hit $2,000 a month. At the time, landlords and many Democrats argued there were too many allegedly wealthy renters taking advantage of artificially low rents. Few people would ever pay $2,000 to live in neighborhoods like Bushwick or Bedford-Stuyvesant, they said. They would be proven wrong. Of the 860,000 apartments that were stabilized in 1994, almost 250,000 had become free-market units by the end of 2016, according to ProPublica. In the same Lower East Side building with apartments under $600, rent exceeded $4,000 a month by the end of the 2010s.
Predatory landlords aggressively raised rent in the late 1990s and 2000s, exceeding the $2,000 threshold through legal but dubious means like performing unnecessary repairs or renovations on rental units or entire buildings. The beauty of rent-stabilization, if implemented on a mass scale, is that it is an ideal bulwark against displacement. Rents only rise so high. A culture of a neighborhood may shift—they inevitably do—but none of it matters if you get to keep your apartment. Rather than deregulate rent-stabilized units, the state and federal governments should have been building more of them at the end of the 20th century. Subsidized and public housing allowed vast numbers of working class, middle class, and poor people to live with relative ease in New York before and after World War II. Adams could have stood on stage at NAN's headquarters and railed against Democrats and Republicans in Washington for failing to allocate funds for the mass construction of new public housing like they did in the 1930s. He could have called for the expansion of Mitchell-Lama. He could have called for the return of very cheap SRO's. He could have called, most importantly, for housing to be a human right, for the state and federal governments to guarantee a safe and livable apartment for every American who needs one. The market does not need to govern housing, just as it shouldn't govern healthcare. Beyond the taxes we pay, we aren't charged for sanitation, fire, or police protection. Why should housing and healthcare be different? Gentrification is a free-market problem. More housing must be constructed—this is not a NIMBY space—and residential, leafy neighborhoods downzoned under Bloomberg should, in turn, be upzoned to allow for this construction to take place. But more units on the market, alone, will not arrest the homelessness crisis or lower the rent drastically. More radical and permanent solutions must be proposed.
Telling New York residents to "go back" to where they came from is not radical at all. It is old and tired. In October 2020, as Adams seeks to lead a city ravaged by COVID-19, with some questioning the urban project altogether, he would be wise to atone. It is these newcomers from Ohio, Iowa, and everywhere else—those who believe in New York, those who want to live, work, and play here—who will be needed, along with resilient longtime residents, to form the tax base of a transformed city. New York City cannot stand merely with third-generation residents like myself. That is a fallacy. At least 37 percent of the city is foreign born. Of the New Yorkers born in America, many came from other states. The Mayor of New York City and the Speaker of the City Council attended high school in Massachusetts. So did the last mayor.
It is quite clear that the city has never faced a crisis like this one before. Without a massive federal bailout or new revenue through tax increases and borrowing—in the end, all may be necessary—the city will effectively collapse, public and social services severely curtailed. The subway system is on the brink of fiscal ruin. People are rightfully wondering what's in store for New York City. If Adams is indeed elected mayor, why should people from across the country want to come here? The cost of living remains high, despite the pandemic. Businesses are realizing it doesn't make much sense to keep renting extremely expensive office space in Midtown and Downtown. Broadway is shuttered well into 2021. The bars and restaurants and clubs and museums that attract so many to New York, its very beating cultural heart, are not operating like they once were. There are opportunities here, but there are opportunities in Chicago and Seattle and Nashville too. It costs a lot less to rent an apartment there.
The next mayor cannot be so exclusionary. While such a stance is repugnant on the merits, it's also strategically idiotic. New York needs everyone to survive. And it will need a mayor committed to reimagining housing in a deeply unequal city. Eric Adams can decide whether he wants to be that mayor or not.